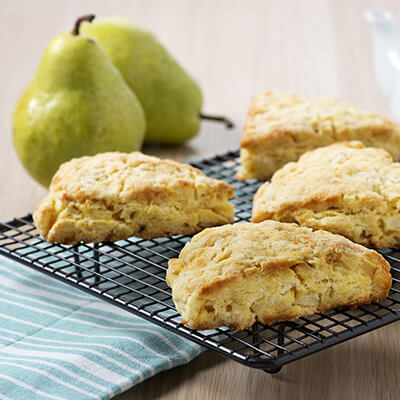 These crumbly buttery scones studded with tender pears are a beguiling sweet and savory breakfast treat. Best served immediately or gently reheated the next day.
INGREDIENTS
1 peeled, cored and diced Bartlett or Green Anjou USA Pear, about ¾ cup
1 ½ cups all-purpose flour
¼ cup sugar
1 ½ teaspoons baking powder
½ teaspoon salt
½ cup (1 stick) unsalted butter, cut into pieces
½ cup shredded sharp Cheddar cheese, preferably white
2 tablespoons whole milk
1 large egg
DIRECTIONS
Preheat oven to 375 degrees.
Place the flour, sugar, baking powder, and salt in a large mixing bowl and stir to combine. Add the butter and blend using a pastry blender or two butter knives. Add the cheese, milk, and egg and stir until the dough begins to come together, then add the pears.
Generously flour working surface and place the dough on top. Sprinkle the dough with flour and pat into a 7-inch circle. Cut circle into 6 wedges. Transfer wedges to a non-stick or parchment paper lined baking sheet. Allow at least 2 inches between each scone. Bake until firm and golden, about 25 minutes. Transfer to a wire rack to cool before serving.
NUTRITION
Serving Size: 1 Scone
Calories: 350
Carbohydrate: 36g
Dietary Fiber: 2g
Protein: 7g
---
1 Comment » for Cheddar Pear Scones