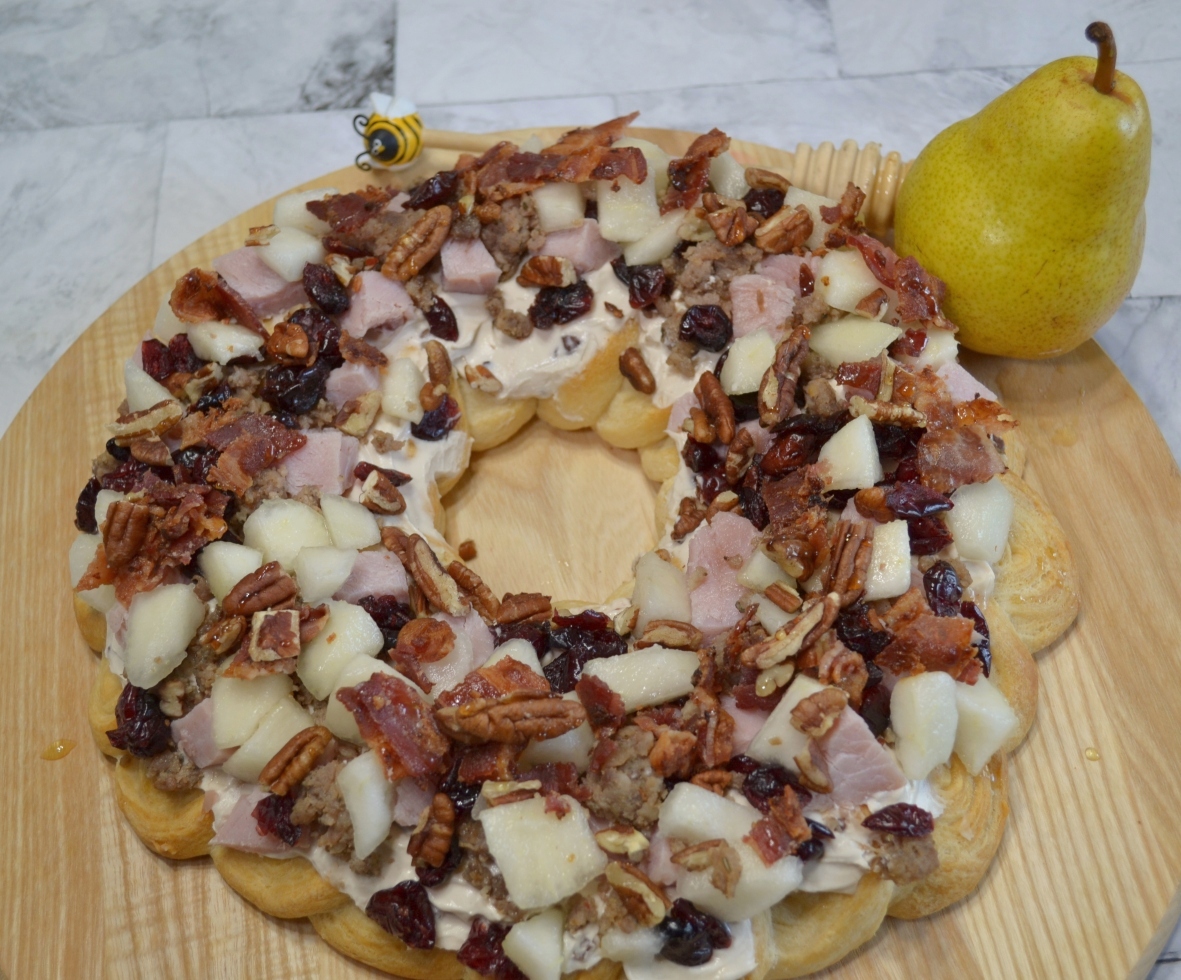 Holiday Pear Appetizer Wreath
This Holiday Pear Appetizer Wreath begins with a crescent dough crust in the shape of a wreath, and covered with a honey pecan cream cheese spread. It is then loaded with sausage, ham, pears, cranberries, bacon, pecans, and drizzled with honey. So perfect to serve at your holiday events! Recipe and photography by Grandma Honey's House.
INGREDIENTS
• 2 (8oz) cans refrigerated crescent dough sheets
• 1 (7.5oz) container honey pecan cream cheese spread
• 1/4 LB spicy ground sausage, crumbled and browned, grease drained
• 1/2 cup ham cubes, diced
• 2 ripe USA Pears, Bartlett, peeled and cut in small cubes
• 1-2 Tablespoons lemon juice
• 1/2 cup dried cranberries
• 2 slices bacon, cooked and crumbled
• 1/4 cup pecans, chopped
• 2 Tablespoons honey to drizzle
DIRECTIONS
Preheat oven to 350 degrees F. Line a baking sheet with parchment paper, or use a baking stone. Place a small, round bowl such as a ramekin in the center of pan.
Open one can of crescent dough and do not unroll. Roll carefully into a 12 inch log. Cut into 16 equal slices. Make a ring around the bowl, clockwise, in a wreath pattern, slightly overlapping the edges. Use 12 slices.
Open the second can and repeat procedure. Create a ring around the first one, using 20 slices of dough. Arrange these slices in a counterclockwise pattern. Slightly overlap edges.
Bake crust about 18 minutes, or until crust is light golden brown. Remove pan from oven to a cooling rack. Cool about 20 minutes, then carefully slide the crust onto a wire cooling rack.
While the crust is baking and cooling, prepare the toppings. After the pears are peeled and diced, brush the lemon juice on them, toss gently in in a bowl, and drain any excess lemon juice.
Place cooled crust on a serving platter. Spread the cream cheese evenly over the crust, allowing some of the crescent edges to show.
Arrange the sausage, ham, pears and cranberries evenly around crust. Top with the bacon and pecans. Drizzle with the honey. Cut into desired size wedges to serve.
Refrigerate until ready to serve.
NUTRITION