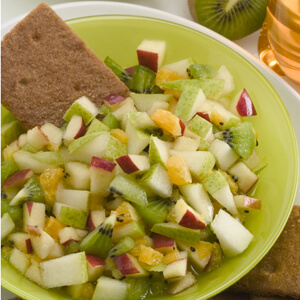 Be the envy of the cafeteria or the party with this fruity salsa that's served with graham crackers for dipping.  It's great as an after-school snack – adults can make quick work of chopping up the fruit, and kids can help by tossing it all together!
INGREDIENTS
1 USA Pear, cored and finely chopped
1 apple, cored and finely chopped
2 kiwifruit, peeled and finely chopped
1 orange, peeled and finely chopped
2 tablespoons honey
1 teaspoon lemon juice
Cinnamon graham crackers
DIRECTIONS
Combine chopped fruit in a medium-sized bowl. Pour honey and lemon juice over fruit and gently toss. Scoop up bites of fruit salsa using cinnamon graham crackers.
Take it to school for lunch: Pack a serving of salsa in an air-tight container, with cinnamon graham crackers for dipping stored in a separate baggie.
NUTRITION
Serving Size: 4 Graham Crackers
Calories: 240
Carbohydrate: 53g
Dietary Fiber: 3g
Protein: 3g