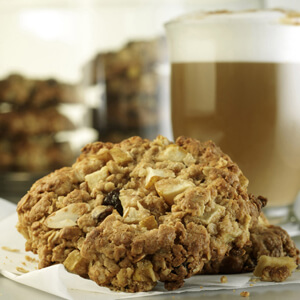 Northwest Pear Breakfast Cookie
Jumpstart your day with this chewy, filling breakfast cookie. With a mixture of granola, raisins, and whole wheat flour, it will keep you going strong until lunch.
INGREDIENTS
1 ½ cups quick cooking oatmeal
1 cup plain granola
½ cup whole wheat flour
½ cup all-purpose flour
½ cup nonfat dry milk powder
1 ½ teaspoons ground cinnamon, divided
¾ teaspoon salt
½ teaspoon baking soda
¼ teaspoon ground nutmeg
2 USA Pears, cored, cut into ¼-inch cubes
⅔ cup packed brown sugar
½ cup canola oil
1 egg
1 teaspoon vanilla
1 cup raisins
DIRECTIONS
Preheat oven to 375 degrees.
Mix oats, granola, whole wheat flour, flour, dry milk powder, 1 teaspoon cinnamon, salt, baking soda, and nutmeg in medium bowl; set aside.
Mix pears with remaining cinnamon; set aside.
Beat oil, brown sugar, egg, and vanilla on low speed for 1 minute until blended. Add oat mixture and beat on low 1 minute until blended. Stir in pears and raisins until just mixed.
Place ¼ cup dough on parchment-lined baking sheets. Bake for 18 to 22 minutes until edges are set and top is golden brown. Cool 3 minutes and remove from pan.
NUTRITION
Serving Size: 1 Breakfast Cookie
Calories: 250 (32% Calories from Fat)
Carbohydrate: 39g
Dietary Fiber: 3g
Protein: 4g
---
3 Comments » for Northwest Pear Breakfast Cookie