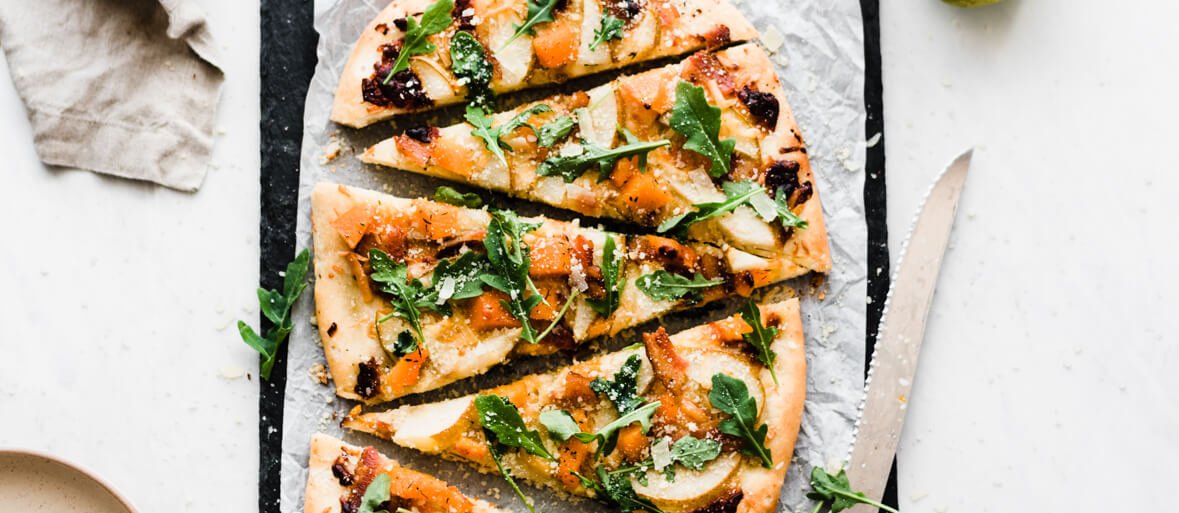 Pear Pizza with Roasted Butternut Squash, Bacon, and Arugula
Homemade Pear Pizza is the perfect fall dinner! Made with a super simple homemade crust, fresh juicy pears, roasted butternut squash, crisp bacon, plenty of melty cheese, and topped with fresh arugula and Parmesan. Recipe created and photographed by Stephanie Simmons (bluebowlrecipes.com)
INGREDIENTS
For the Crust
1 and 1/2 tsp active dry yeast
2 tsp sugar
2/3 cup + 2 TBSP warm water
2 cups all-purpose flour
1 and 1/2 tsp salt
1 TBSP olive oil
Toppings
3 slices bacon, cooked
1 cup butternut squash
1 TBSP olive oil
1/2 tsp salt
pinch pepper
1/4 tsp thyme
1 TBSP brown sugar
1 cup Gruyere cheese, grated
1 cup Parmesan cheese, grated
1 large pear
2 handfuls fresh arugula for topping after baking
For the Infused Olive Oil
2 TBSP olive oil
1 handful fresh sage leaves
1 clove garlic, peeled and smashed
DIRECTIONS
Prep: Cook bacon according to package directions (we like to do it in the oven) and place on a paper-towel lined plate to drain the grease.
Toss the butternut squash on a parchment-lined baking sheet with the oil, salt, pepper, brown sugar, and thyme. Roast at 400 degrees F for 18-20 minutes, tossing halfway through. Set aside.
Make the dough: Measure warm water into a medium mixing bowl. Add the yeast and sugar – stir once, gently, with a whisk and let sit for 5 minutes. It should be foamy after the time is up (see photo above in post). If it still looks like a bowl of water with granules of yeast everywhere, toss it and try again – make sure your yeast isn't expired.
Stir in the flour, olive oil, and salt. A shaggy dough will form. Knead it on a lightly floured counter for a minute or so, until it smoothes out. Form into a ball, and place in a bowl sprayed with cooking spray (to prevent sticking). Cover with plastic wrap or a kitchen towel and let rise for 40-45 minutes.
Make the Sage Olive Oil: When the pizza rise time is close to finished, add a handful of fresh sage leaves to a small saucepan with the olive oil and one peeled, smashed clove of garlic. Cook over medium low heat for a few minutes to infuse the olive oil with flavor. Don't let the garlic brown. Remove from the heat, discard the sage leaves and garlic, and set the oil aside.
Assemble the pizza: Increase oven temp to 475 degrees. 
Line a baking sheet with parchment paper. The dough should have risen to about double it's original size. Place the dough on your lined pan and press it out with floured hands or a rolling pin until it's about 1/4″ thick. The shape doesn't matter!
Brush with the olive oil, add the cheese, sliced pears, bacon, squash, and an extra sprinkle of cheese over the top.
Bake: Bake for 12-15 minutes, or until the crust has turned a light golden brown. The bottom of the pizza should be crisp – you can carefully lift it using a large spatula/flipper and tap it to check – it will also have browned quite a bit underneath.
Serve + Store: Top with fresh arugula and enjoy immediately. This pizza is best eaten on the first day, but you can store leftovers in an airtight container in the fridge for 2-3 days.
Recipe Notes
NOTE: If you're stretched for time/energy, you can buy pre-made pizza dough at many grocery stores and skip the homemade crust.
NUTRITION
Serving Size: 1 slice
Calories: 331
Carbohydrate: 31.8g
Dietary Fiber: 2g
Protein: 12.9
---
1 Comment » for Pear Pizza with Roasted Butternut Squash, Bacon, and Arugula