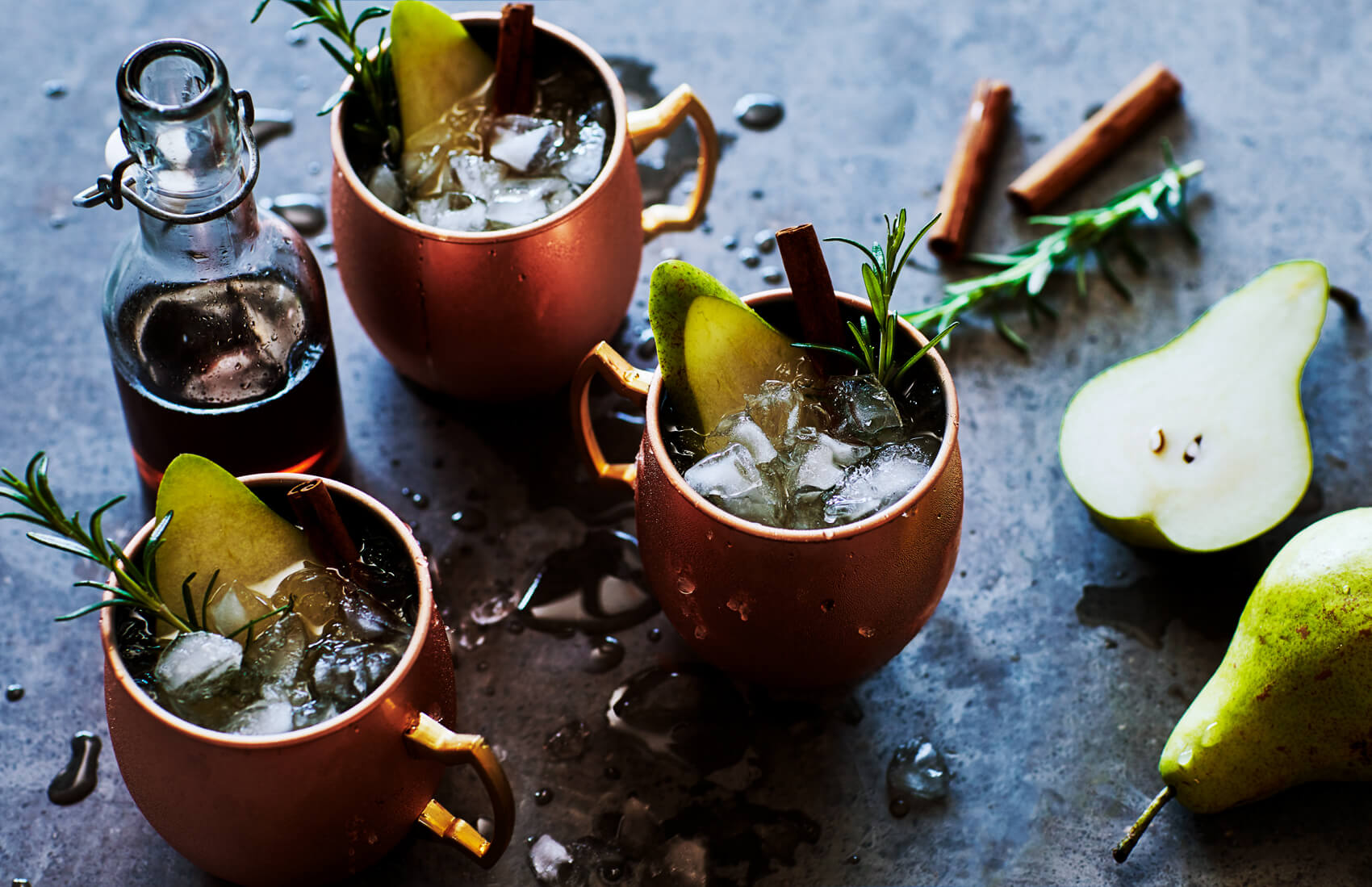 This pear-y twist on the classic Moscow Mule cocktail—with the warming effects of ginger and cinnamon, and the scent of fresh rosemary—is the perfect party starter for holiday gatherings. The first step is to steep a pear simple syrup that is truly simple to make. For larger parties, mix the vodka, syrup, and lime juice in a pitcher so that all you have to do is pour some into an ice-filled glass, top with club soda, and garnish with a slice of juicy pear, a sprig of rosemary, and a cinnamon stick for festive flare, copper mug optional!
INGREDIENTS
Ginger-Pear Simple Syrup
¾ cup water
¾ cup brown sugar
1 large ripe or overripe USA Pear, chopped
4 quarter-size slices ginger
1 cinnamon stick
Cocktail
2 ounces vodka
1 ounce Ginger-Pear Simple Syrup
1 ounce fresh lime juice
Club soda
1 USA Pear slice
1 cinnamon stick
1 rosemary sprig
DIRECTIONS
Note: Makes 1 cocktail, and about 11/2 cups pear simple syrup (enough for 12 cocktails)
To make the simple syrup: In a medium saucepan, bring water, the brown sugar, pear and ginger to a simmer over medium-high heat, stirring until the sugar is dissolved. Decrease the heat to a gentle simmer for 30 minutes. Remove the pan from the heat and allow the syrup to cool to room temperature. Strain the syrup through a fine-mesh sieve. Refrigerate until well chilled. (It will keep in the refrigerator for at least 10 days.)
To make the cocktail: Fill a copper mug or cocktail glass with ice. Add the vodka, simple syrup, and lime juice and stir. Top with enough club soda to fill the glass. Garnish with the pear slice, cinnamon stick and rosemary sprig and serve.
NUTRITION
Serving Size: 1 Cocktail (5 oz)
Calories: 200
Fat: 0g
Carbohydrate: 20g
Dietary Fiber: 1g
Protein: 0g