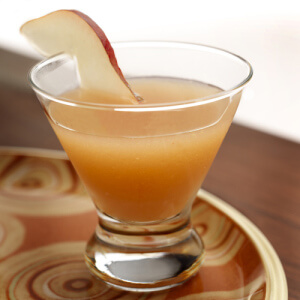 A variation on the classic Rusty Nail, the silky smooth pear purée makes this cocktail a joy to drink either up or on the rocks. Leave the skin on the pear for a beautifully colored pear purée. Created by Paul Zablocki of Brooklyn, NY (www.cocktailbuzz.com).
INGREDIENTS
2 ounces Irish whiskey
1 ounce purée of USA Red Bartlett pear
½ ounce pear liqueur, such as Belle de Brillet or Aqua Perfecta Pear Eau de Vie
½ ounce Drambuie
Ice
DIRECTIONS
Pour ingredients into shaker and fill with ice. Shake well for 30 seconds and strain into chilled cocktail glass. Garnish with a USA Red Bartlett pear wedge.
NUTRITION
Serving Size: 4 oz
Calories: 250
Carbohydrate: 8g
Dietary Fiber: 0g
Protein: 0g