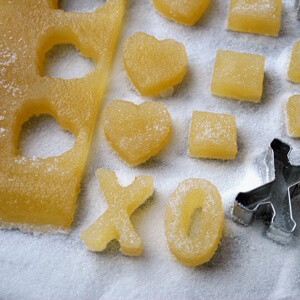 Preserving blogger Brook Hurst Stephens created these adorable candies, pear-fect for celebrating any holiday. "These pear jelly candies might have a tendency to get sticky or shiny, so keep them separated and sugared," says Brook. We think they're a sweet way to show your love to anyone!
INGREDIENTS
1 pound ripe Bartlett, Anjou, or Bosc USA Pears
1 cup Chardonnay (or water), divided into ½ cup portions
2 envelopes unflavored gelatin
1 cup granulated sugar, plus more for dusting
DIRECTIONS
Line an 8-inch square pan with parchment paper and grease with oil or non-stick spray. Set aside.
Pour ½ cup of wine (or water) into a heavy-bottomed saucepan. If using a food processor for this recipe, peel pears, using vegetable peeler, then quarter, cut out cores, and add to saucepan. If using a food mill, just chop the pears into large chunks and add pear chunks to wine in pan.
Bring pears to a boil, cover and reduce to a simmer. Cook pears for about 15-20 minutes, or until soft, then remove from heat.
If using a food processor, let pears cool for a few minutes and puree pears and any remaining liquid until smooth. If using a food mill, set food mill over a bowl, then spoon pears and any remaining liquid into food mill. Turn crank on food mill until pears are separated from their peel, seeds and cores. Discard or compost any solids that remain in food mill.
Return pear puree to pan, add sugar and bring to a boil for approximately 10-15 minutes, stirring to dissolve sugar, until mixture is reduced by about ⅓.
While pear mixture is reducing, pour remaining ½ cup of wine (or water) into a small bowl and sprinkle with gelatin. Stir lightly to mix and then set aside so gelatin can soften.
When pear mixture has reduced, add gelatin mixture and stir until smooth. Bring mixture back to a boil, and boil for 2 minutes.
Pour mixture into prepared pan. Let cool to room temperature. Transfer to refrigerator and chill until set, about 3-4 hours.
Invert pear mixture onto a work surface (cutting board or a parchment-lined sheet) which has been sprinkled with sugar. Use a sharp knife to cut candy into small squares, or use small decorative cutters to cut candy into shapes. Store candies in layers separated by wax or parchment paper in airtight container for up to 2 weeks. You may need to dust with sugar again before serving.
NUTRITION
Serving Size: 3-6 Pieces (74g)
Calories: 120
Carbohydrate: 28g
Dietary Fiber: 1g
Protein: 0g
---
4 Comments » for Pear Jelly Candies