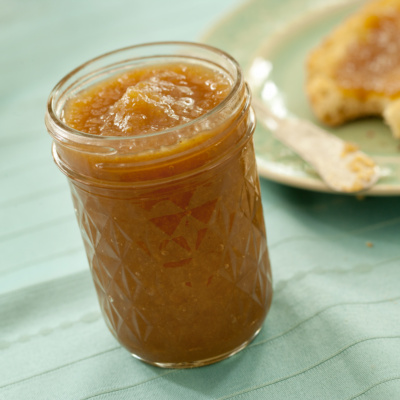 Gingered Pear Freezer Jam
This impressive yet incredibly easy recipe is zesty with ginger and citrus. Spread your homemade jam over toasted crumpets or serve as a sauce with sweet desserts.
INGREDIENTS
1 ½ cups sugar
1 package Ball® Simple Creations® Freezer Jam Fruit Pectin
3 ½ cups pear puree
⅓ cup fresh orange juice, strained
1 teaspoon orange zest
1 tablespoon fresh lemon juice
1 teaspoon lemon zest
1 teaspoon ginger
Dash of salt
5 Ball® Plastic (8-ounce) Freezer Jars
DIRECTIONS
Stir sugar and contents of pectin package in a bowl until well blended.
Add pear puree, orange juice, orange zest, lemon juice, lemon zest, ginger, and salt, stirring to combine. Stir 3 minutes longer.
Ladle jam into clean jars to fill line. Twist on lids. Let stand until thickened, about 30 minutes. Refrigerate up to 3 weeks or freeze up to 1 year.
yield: Makes about 5 (8-ounce) half pints
This recipe is courtesy of our friends at Ball®. Visit them online at www.freshpreserving.com!
NUTRITION
Serving Size: 1 oz
Calories: 50
Carbohydrate: 13g
Dietary Fiber: 0g
Protein: 0g
---
1 Comment » for Gingered Pear Freezer Jam