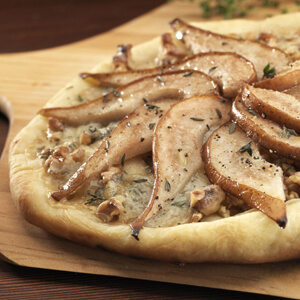 Pear Gorgonzola and Walnut Pizza
Pears and cheese are a dynamic duo, and this delectable pizza proves that point. Use pre-baked pizza crusts and this crowd-pleaser is ready in a snap. Slice and serve as a festive finger food at parties, or make as a lunch or dinner entrée with fresh sliced pears served on the side.
INGREDIENTS
1 USA Pear
2 pre-baked 8-inch pizza crusts
⅔ cup crumbled Gorgonzola cheese
¼ cup diced walnuts
⅛ teaspoon ground black pepper
½ teaspoon fresh thyme leaves, removed from stem
DIRECTIONS
Preheat oven to 450 degrees. Slice pear stem side up into 12 quarter-inch width vertical planks. Cut planks in half lengthwise for a total of 24 slices.
Place pizza crusts on foil-lined baking sheet. Sprinkle ⅓ cup cheese and 2 tablespoons walnuts over each crust. Place 12 pear slices on top of cheese mixture. Sprinkle with pepper.
Bake 12 to 14 minutes until cheese is melted and pears are soft.
Remove from oven and sprinkle with thyme. Cut into 6 slices and serve.
NUTRITION
Serving Size: 1 Slice
Calories: 110 (40% Calories from Fat)
Carbohydrate: 13g
Dietary Fiber: 1g
Protein: 4g