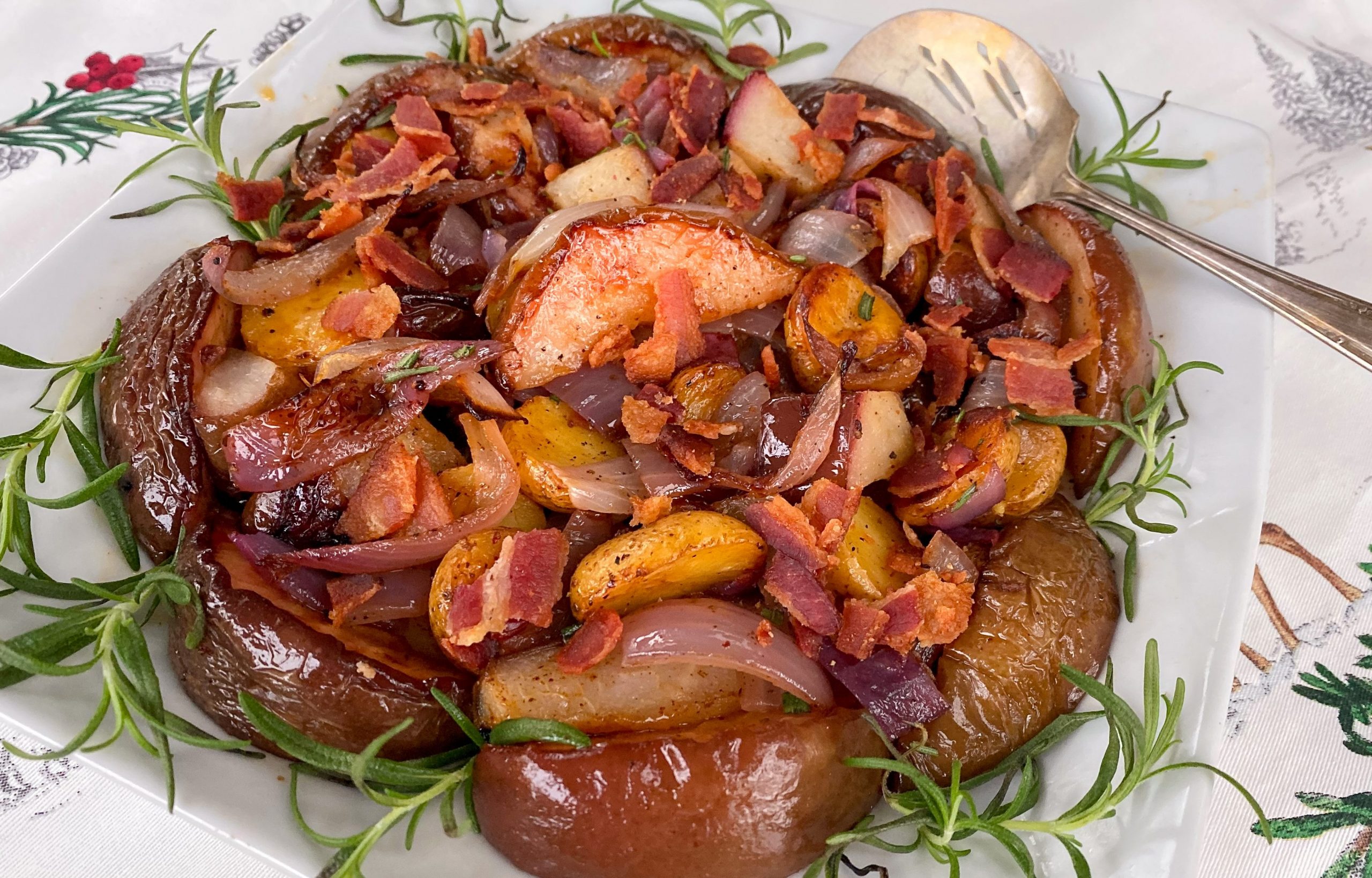 Baconized Rosemary Pears with Potatoes and Red Onions
This eye-catching and creative dish of sweet and savory roasted pears goes perfectly with roasted turkey! You can even make it ahead and reheat! Recipe and photography by A Merry Recipe.
INGREDIENTS
12-16 ounces sliced bacon, cut in half
3 Red Anjou or Starkrimson Red Pears (about 2 pounds), cored, cut into 4-6 wedges
1 large red onion (about 16 ounces), skin removed, cut into 8 wedges
2 cups golden potatoes (about 12 ounces), cut mini unpeeled potatoes in half or cut standard size in 1-inch peeled cubes
3 tablespoons canola oil
1 lemon, juiced (2 tablespoons juice, 2 teaspoons zest)
1 teaspoon smoked paprika
1 teaspoon chili powder
1 teaspoon sea salt
1/2 teaspoon freshly ground black pepper
5 sprigs rosemary, plus 2 tablespoons chopped rosemary leaves, extra for garnish, divided
1 tablespoon maple syrup
DIRECTIONS
Preheat the oven to 400° F.
Line two rimmed baking sheets or pans with foil. On one prepared baking sheet, arrange bacon slices, in a single layer. Place baking sheet on center oven rack, and bake 12-18 minutes, rotating pan once, until crispy. Transfer bacon to paper towels and blot dry. Crumble before serving. Set aside.
Meanwhile, on the second prepared baking sheet, toss pears, onions, potatoes, canola oil, and 1-tablespoon lemon juice. Combine paprika, chili powder, salt, and pepper, and sprinkle over pear mixture, and toss again. Arrange pears, potatoes, and onions, in a single layer, and top with 5 rosemary sprigs.
Adjust oven heat to 425° F. Cover the baking sheet tightly with foil. Bake until pears begin to soften, 20 minutes.
Uncover the pears after 20 minutes of baking, stir, and continue to bake, uncovered, 18-20 minutes more, or until golden brown on edges. Remove the baking sheet from oven, cool pear mixture for 5 minutes. If desired, reserve 6 posted pear wedges for garnish.
Chop the remaining pears, potatoes, and onions, into bite size pieces. Drizzle with maple syrup and 1-tablespoon lemon juice. Sprinkle with 2-tablespoons minced rosemary, half of the bacon crumbles, and lightly toss. Salt and pepper to taste. Place back on baking sheet and bake for 5 more minutes. Transfer to a serving dish. Top with remaining bacon crumbles. Garnish with rosemary. Serves: 4-6
*Serving Suggestions: Serve this yummy and creative side dish with roasted lamb, turkey, chicken, beef or pork chops. I guess that means serve it with everything!
*Dietary Variations: Omit the bacon for Vegan or Vegetarian diets.
NUTRITION
Serving Size: 9 oz
Calories: 430
Fat: 24g
Carbohydrate: 41g
Dietary Fiber: 7g
Protein: 14g
---
1 Comment » for Baconized Rosemary Pears with Potatoes and Red Onions