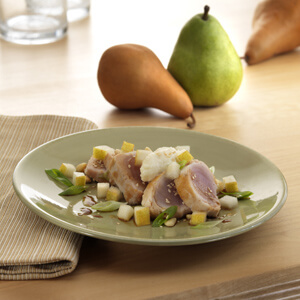 Rare Tuna with Pear Pine Nuts and Chili Oil
INGREDIENTS
2 cloves garlic, minced
4 tablespoons (60 mL) soy sauce
2 teaspoons (10 mL) sugar
2 teaspoons (10 mL) roasted sesame oil
1 teaspoon (5 mL) chili oil
4 tablespoons (60 mL) thinly sliced green onion
2 8-ounce (250 g) pieces of ahi tuna, ½-inch thick
Vegetable oil
Sea salt
2 teaspoons (10 mL) toasted sesame seeds
1 ripe yet firm Bartlett, Anjou, or Bosc USA Pear
8 teaspoons (40 mL) mayonnaise
1 tablespoon (15 mL) raw pine nuts
DIRECTIONS
Combine the garlic, soy sauce, sugar, sesame oil, and chili oil. Place the green onion into ice-cold water.
Coat the tuna with the vegetable oil and salt both sides liberally. Heat a heavy frying pan over high heat until just smoking. Place the tuna in the pan and sear until a good, brown crust forms. Turn over and brown on the other side. The tuna should remain rare. Remove from the pan.
Strain the soy sauce mixture through a fine sieve, pressing down on the garlic to extract the flavor. Discard the garlic. The soy mixture may be made up to 1 day in advance. Cover and refrigerate.
Drain the green onion and roll in a paper towel to dry. Core the pear and cut into ¼-inch cubes.
Cut each piece of tuna into 12 thin slices. Using 3 slices per plate (or 6 for a main course), arrange in overlapping slices on 8 (or 4) plates. Drizzle with the soy sauce mixture. Place 1 teaspoon (5 mL) of mayonnaise on top of the tuna and top it with a mound of the pear. Drizzle any remaining sauce over the tuna and sprinkle with the sesame seeds, pine nuts and green onion. Serve immediately.
NUTRITION
Serving Size: 7 oz
Calories: 290
Carbohydrate: 11g
Dietary Fiber: 2g
Protein: 30g