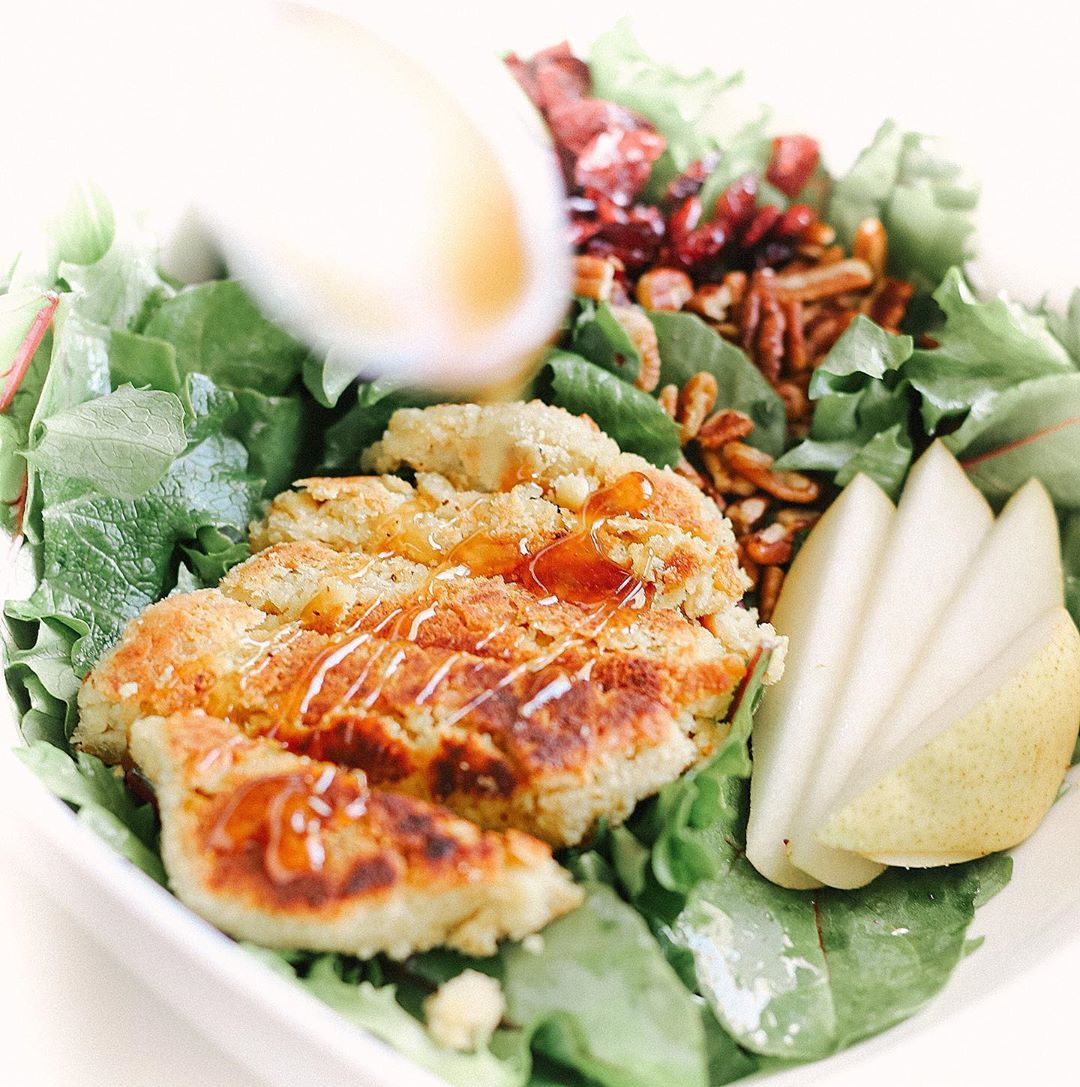 Pear Glazed Vegan Chicken Tenders with a Summer Salad
This sugar free, gluten-free, vegan chicken salad is a game changer when it comes to easy, plant-based dinners. Under 30 minutes. Delicious and healthy! Recipe by Michelle Nemis.
INGREDIENTS
Sweet Pear Glaze:
1 tbsp olive oil for frying
2 green Anjou pears cored and chopped into cubes
1 cup water
1 tbsp stevia you can also use erythritol or sweetener of choice
Vegan Chicken
1 170g package tempeh soy product, cut into cubes
1 cup almond flour
1 tsp garlic powder
1 tsp onion powder
1 cube Not Chick'n Bouillon
4 tbsp olive oil for frying
Summer Salad:
4 cups spring mix or desired amount
1 tbsp olive oil
1 tbsp vinegar
1 handful dried cranberries
1 handful pecans
DIRECTIONS
Start by making your Sweet Pear Glaze
1. You'll need to chop two green Anjou pears up into cubes, leaving out the core.
2. In a heated frying pan, cook the pears in olive oil or coconut oil over medium heat, stirring constantly. Add one cup of water and cook with the lid on until all the juices have seeped out and the pears are soft—about 20 minutes.
3. Remove the pears from the pan, leaving only the liquid inside.
4. Add to the liquid one tablespoon of 0-calorie sweetener like stevia or erythritol. Continue to cook on medium heat to reduce, with the lid off and stirring often so that it doesn't burn.
5. Once the liquid turns to a thick glaze, remove the pan from the heat.
How to Make Vegan Chicken
1. You'll need a 170 gram package of Tempeh, which will make about three chicken breasts (prepared alternative meat substitutes will also work). Unwrap the package of tempeh and cut into cubes, mix with chicken flavored spices, shape the mixture by hand, and pan fry (further instructions are on the blog). For the salad, throw in either baby spinach, chopped romaine lettuce, or spring mix (I used spring mix with arugula). Drizzle two tablespoons of olive oil and two tablespoons of vinegar. Add a generous handful of sugar free dried cranberries and pecans. Place your vegan chicken on top and drizzle the sweet pear glaze on top. Done!
NUTRITION