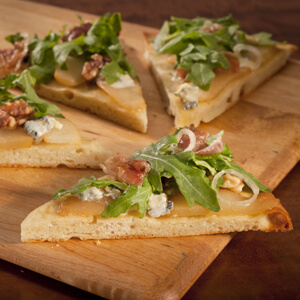 This crisp flatbread, created by renowned Philadelphia chef David Katz, combines sweet, savory, and salty in every delicious bite.
INGREDIENTS
Flatbread Dough
½ cup lukewarm water
¼ teaspoon active dry yeast
Pinch of sugar
1 ⅓ cups all-purpose flour
½ teaspoon salt
2 teaspoons olive oil
Poached Pears
3 cups white wine (Riesling or Gewürztraminer)
2 cups brewed black tea
½ cup orange juice
2 tablespoons brown sugar
1 tablespoon black peppercorns
4 cloves
2 star anise
5 to 6 sprigs fresh thyme
2 firm, ripe Bosc USA Pears, peeled, halved and cored
Walnut Liqueur Vinaigrette
1 tablespoon walnut liqueur
2 tablespoons sherry vinegar
1-½ teaspoons honey
½ cup olive oil
Salt and freshly ground black pepper to taste
Flatbread Toppings
6 to 8 slices prosciutto
½ cup Gorgonzola cheese
¼ cup toasted walnuts
2 cups arugula leaves, washed and dried
1 shallot, thinly sliced
DIRECTIONS
For dough: Combine the water, yeast and sugar in a large bowl and let stand 5 minutes or until the yeast is active and lightly foamy. Gradually add ⅔ cup flour and stir to incorporate. Mix to form sponge, cover and let stand at least one hour.
Scrape the sponge into the bowl of an electric stand mixer fitted with the dough hook. Add the salt and olive oil, followed by ⅓ cup of the remaining flour. Mix briefly before adding the rest of the flour and continuing to mix to form dough. Remove dough from mixing bowl and lightly knead by hand on a floured work surface. Place dough in a clean, lightly oiled bowl, cover and let rise about 2 hours.
For pears: Bring the white wine, brewed tea, orange juice, brown sugar, peppercorns, cloves, star anise, and fresh thyme to a low simmer in a non-reactive saucepan. Add the pear halves, cover with a piece of parchment paper and continue to simmer over low heat until the pears are tender, or a knife slides in and out of the pear easily. Remove pears from heat and set aside to cool.
After 2 hours, turn the flatbread dough out onto a floured work surface and shape into a 12-inch round. Preheat the oven to 400 degrees. Lightly oil a large cast iron pan, 12-inch tart pan with a removable bottom, or a baking sheet. Transfer the dough to the pan or baking sheet, cover loosely with plastic wrap and let rise until almost doubled, about 30 minutes. After 30 minutes, press the dough with your fingertips to create indentations, brush with oil and bake until golden, about 20 minutes.
For vinaigrette: Combine the walnut liqueur, sherry vinegar, and honey into a small non-reactive bowl. Slowly add the olive oil while whisking. Season to taste with salt and freshly ground black pepper.
Fry the prosciutto in a sauté pan over medium heat until crispy. Drain on paper towels and set aside.
To assemble: Thinly slice the poached pears and place on the cooked flatbread in a single layer. Crumble the Gorgonzola cheese over the top and return to the oven until pears have warmed and cheese is melted.
While the flatbread is in oven, make the salad. Toss the arugula, shallot and crumbled prosciutto with enough vinaigrette to lightly coat the leaves. Remove the flatbread from the oven and slide onto a cutting board. Cut into pieces and top with salad.
yield: Makes one 12-inch flatbread
NUTRITION
Serving Size: 1 Slice (139g)
Calories: 340
Carbohydrate: 28g
Dietary Fiber: 2g
Protein: 8g