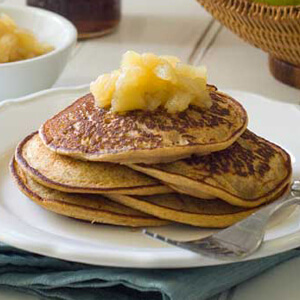 "If you prefer, you can thin the pancake batter out with a little more liquid, making them more like crepes, then fill them with the Pear Maple Spread and roll them up," says recipe author and gluten-free blogger Carol Kicinski. "A light dusting of confectioners' sugar would be a nice touch. As would a side of bacon."
INGREDIENTS
Pancakes
1 USA Pear, peeled, cored and roughly chopped
6 large medjool dates, pits removed and roughly chopped
1 cup milk
1 egg
¾ cup plus 2 tablespoons superfine brown rice flour
2 tablespoons tapioca starch
½ teaspoon kosher or fine sea salt
1 teaspoon baking powder
Pear Maple Spread
2 USA Pears, peeled, cored and roughly chopped
1 teaspoon freshly squeezed lemon juice
2 tablespoons maple syrup
DIRECTIONS
For pancakes: Place the pear, dates, milk and egg in a blender and process until smooth, about 1 minute. Add the flour, starch, salt and baking powder and blend until fully combined, scrapping down the blender container a time or two.
Heat a griddle or skillet over medium heat until a drop of water sizzles immediately when splashed on it. Spray with some gluten-free non-stick cooking spray. Ladle on a heaping ¼ cup of batter per pancake. Cook until the edges look dry and the bottom is golden brown, about 3 – 4 minutes. Flip and cook until the bottom is browned and the pancakes feel firm to the touch. Keep pancakes warm in a low (200 degrees) oven and repeat with remaining batter.
For spread: Combine the pears, lemon juice and maple syrup in a small sauce pan. Bring to a boil, lower the heat to medium low and simmer until the pears are fork tender, about 6 minutes. Mash the pears a little with a fork or potato masher, keeping the mixture chunky. Raise the heat and reduce the liquid until it is thick a syrupy, serve warm with pancakes.
NUTRITION
Serving Size: 2 Pancakes (274g)
Calories: 400
Carbohydrate: 89g
Dietary Fiber: 8g
Protein: 7g