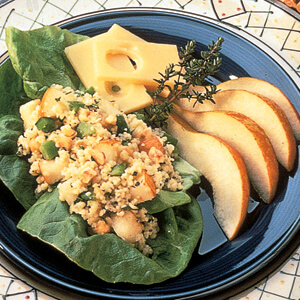 Couscous is an easy alternative to rice and pasta. This salad combines a light, savory herb dressing with two Northwest favorites — pears and hazelnuts. The addition of Jarlsberg cheese adds an additional creamy note to this flavorful salad.
INGREDIENTS
Herb Dressing
¼ cup white wine vinegar
2 tablespoons olive oil
1 teaspoon Dijon mustard
1 teaspoon chopped fresh basil
1 teaspoon chopped fresh thyme
½ teaspoon sugar
¼ teaspoon salt
Ground black pepper
Salad
¾ cup chicken broth
½ cup, uncooked couscous
1 teaspoon lemon juice
1 Bosc USA Pear, cored and diced
½ cup chopped green pepper
2 tablespoons chopped hazelnuts
1 tablespoon chopped parsley
Salt and pepper to taste
1 USA Bosc Pear, cored and sliced
4 ounces sliced or cubed Jarlsberg or Swiss cheese
DIRECTIONS
For dressing: Combine all ingredients and mix well.
yield: Makes about ⅓ cup
For salad: Bring broth to boil; add couscous and lemon juice. Cover and let stand 5 minutes or until couscous is tender and all liquid is absorbed. Toss with 2 tablespoons of herb dressing and cool. Add diced pear, green pepper, hazelnuts, parsley, and additional dressing to taste. Adjust seasoning with salt and pepper. Arrange couscous-pear salad, pear slices, and cheese on lettuce-lined plates.
NUTRITION
Serving Size: 2.5 Cups
Calories: 330
Carbohydrate: 28g
Dietary Fiber: 3g
Protein: 13g