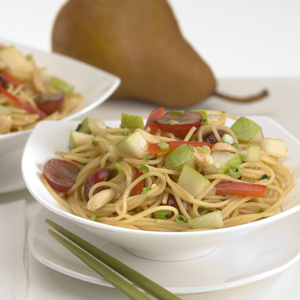 If available, fresh cilantro and fresh minced garlic can replace the dried cilantro and garlic powder.
INGREDIENTS
9 ounces vermicelli pasta
1 cup diced USA Pears
1 cup red grapes, cut in half
¾ cup red peppers, seeded and cut into thin 2-inch strips
¼ cup diced green onions
¼ cup soy sauce
¼ cup olive oil
3 tablespoons lime juice
2 tablespoons honey
1 tablespoon dried cilantro
1 ½ teaspoons ground ginger
1 teaspoon salt
½ teaspoon Serrano chile pepper, seeded and minced
⅛ teaspoon garlic powder
½ cup salted peanuts
DIRECTIONS
Heat water to boiling. Add pasta, stirring slowly, until water boils again. Boil 8 to 10 minutes until tender. Do not overcook. Drain well. Rinse under cold water, and pour into large bowl.
Add pears, grapes, red peppers, and green onions to the chilled pasta.
Whisk soy sauce, oil, lime juice, honey, cilantro, ginger, salt, chile pepper, and garlic powder until well blended. Pour over pasta mixture.
Toss gently to combine and coat evenly.
NUTRITION
Serving Size: 1 Salad
Calories: 290
Carbohydrate: 32g
Dietary Fiber: 4g
Protein: 7g