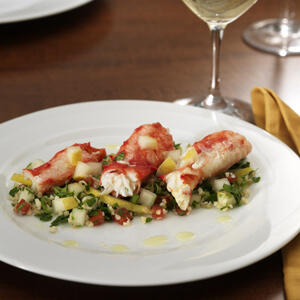 Alaskan King Crab with Pear Tabbouleh Salad
Crisp Forelle pears add another level of flavor and texture to a classic Middle Eastern dish, created by Minneapolis chef Sameh Wadi.
INGREDIENTS
2 to 3 pounds Alaskan king crab, shelled and cut in 2-inch pieces
Pear Tabbouleh
⅓ cup fine bulgur wheat
1 tablespoon olive oil
⅔ cup boiling water
4 cups Italian parsley, finely chopped
¼ cup tomatoes cut in ¼-inch dice
2 scallions, white part only, thinly sliced
2 Forelle pears, cored and cut in ¼-inch dice
¼ cup mint, torn in small pieces by hand
2 to 3 tablespoons lemon juice
Olive oil
Salt and freshly ground black pepper to taste
1 Forelle pear, thinly sliced
DIRECTIONS
For the tabbouleh, rinse the bulgur wheat under cold water and drain well. Place bulgur in a bowl and toss with olive oil, and then add boiling water. Cover bowl tightly with plastic and let stand 15 minutes. Drain in a sieve, pressing on bulgur to remove excess liquid.
Transfer slightly cooled bulgur to a larger bowl and toss with parsley, tomatoes, scallions, pears, and mint. Mix well to distribute ingredients evenly and add lemon juice and olive oil, 1 tablespoon at a time, adding more of either or both as necessary. Season to taste with salt and black pepper.
To serve, place pear tabbouleh in the middle of a plate. Arrange king crab pieces around the tabbouleh and garnish with several slices of Forelle pear. Drizzle lightly with olive oil before serving.
yield: Makes 4 servings
NUTRITION
Serving Size: 19 oz
Calories: 440
Carbohydrate: 25g
Dietary Fiber: 7g
Protein: 56g