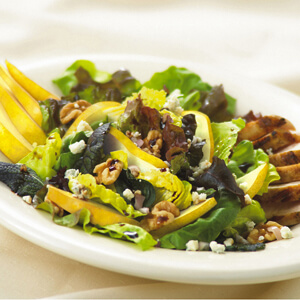 The sweet, juicy flavor, firm texture, and rich color of the pears complement the savory blue cheese, tart balsamic vinegar, and crunchy walnuts. The addition of tender, white strips of lean chicken breast turns this side dish salad into a light entrée, perfect for lunch or dinner.
INGREDIENTS
1 pound cooked, skinned chicken breast halves
8 cups assorted torn mixed salad greens
2 fresh Bartlett USA Pears, cored and sliced
2 tablespoons minced shallots or green onions
⅓ cup chopped walnuts
¼ cup crumbled blue cheese or other cheese
¾ cup balsamic vinegar
DIRECTIONS
Cut chicken into strips. Line platter with greens; top with pears, cooked chicken, shallots, and nuts. Top with cheese. Drizzle balsamic vinegar to taste over salad. Serve with crusty bread, if desired.
NUTRITION
Serving Size: 2 Cups (296g)
Calories: 310
Carbohydrate: 18g
Dietary Fiber: 5g
Protein: 37g