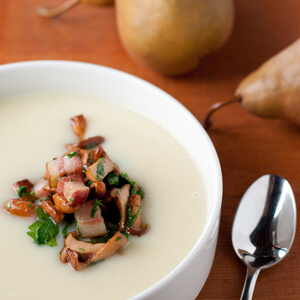 Pear and Sunchoke Soup with Chanterelle Mushrooms and Bacon
Sunchoke is a root vegetable also known as Jerusalem artichoke because of it's artichoke flavor. This recipe, developed by Seattle Chef Ethan Stowell of Staple & Fancy, Tavoláta, How to Cook a Wolf, and Anchovies & Olives, brings a sweet start to any meal with an unusual combination of ripe pears and sunchokes.
INGREDIENTS
Soup
2 tablespoons butter
1 small onion, thinly sliced
1 ½ pounds sunchokes, peeled and diced (yields about 1 pound)
3-4 cups sparkling water
2 medium-size ripe Bosc or Bartlett USA Pears, peeled, cored, diced
Salt and fresh ground black pepper
Chanterelle Mushroom Garnish
4 ounces bacon, diced
1 teaspoon unsalted butter
4 ounces chanterelle mushrooms
⅓ cup thinly sliced shallot
DIRECTIONS
For soup: Melt butter in a medium saucepan. Add onions. Stir over medium-low heat about 8 minutes until soft, do not brown. Add sunchokes and 3 cups sparkling water. Bring to a simmer and cook with vented lid until sunchokes are tender, about 15 minutes. Add pears and cook about 4 minutes until softened. Puree soup in a blender or food processor. Add additional sparkling water as needed for desired consistency. Season to taste with salt and pepper.
While soup is cooking, prepare garnish: Cook bacon with butter in a skillet over medium heat until some of the fat is rendered but bacon is still soft. Bacon should not crisp. Add mushrooms and cook until their liquid is released, 4-5 minutes. Add shallots; cook over low heat until shallots are softened and flavors are melded, about 15 minutes. Makes about ¾ cup.
To serve: Place 2 heaping tablespoons mushroom garnish in a shallow bowl. Pour hot soup over and serve immediately.
NUTRITION
Serving Size: 1 Cup
Calories: 320
Carbohydrate: 33g
Dietary Fiber: 11g
Protein: 9g