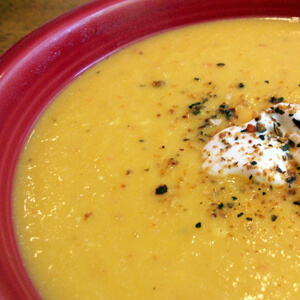 Pumpkin and Pear Pureed Soup
This soup, created by registered dietitian and blogger
Holly Larson
, is a great way to amp up your fruit and vegetable intake during the chilly winter months. It's perfect for everyone from coworkers to children!
INGREDIENTS
2 cups cubed pumpkin, raw or roasted (or butternut squash, or 1 15-oz can pumpkin puree)
2 tablespoons olive or canola oil
1 red bell pepper, diced
1 medium onion, diced
2 cloves of garlic, minced
2 medium USA Pears, cored and cubed (no need to peel)
2-4 cups low-sodium chicken or vegetable stock
Salt and pepper, to taste
Mrs. Dash Extra Spicy Blend (or crushed red pepper)
1 cup fat-free plain Greek yogurt
DIRECTIONS
If you wish to roast your pumpkin or butternut squash first, please find directions here. This lends to a more developed flavor, but is optional. In a medium sauce pan over medium heat, warm up the oil and add bell pepper, onion, and garlic. Sauté for 3-5 minutes or until tender. Add pear and squash and just enough broth to cover the vegetables. Cover pot and bring to a simmer.
Simmer 3-20 minutes or until pears and squash are tender when poked with a fork; this step takes no time if using roasted or canned squash, but is a bit longer if using raw. Just keep checking!
Using an immersion blender or a counter top blender in batches, puree the soup until smooth. Or, mash the mixture with a potato masher. Add more stock if you'd like the soup to be thinner.
Taste seasonings; add salt, pepper, and Mrs. Dash to taste. Add ¾ cup yogurt and stir until smooth.
To serve, pour into a bowl or soup mug and add a dollop from the reserved yogurt. Top with more Mrs. Dash, if you wish.
Cook's Note:
You could also try tossing this soup in the slow cooker (leaving out the seasonings and yogurt) and blend it when you get home from work or school.
NUTRITION
Serving Size: 8 oz
Calories: 150
Carbohydrate: 20g
Dietary Fiber: 4g
Protein: 7g