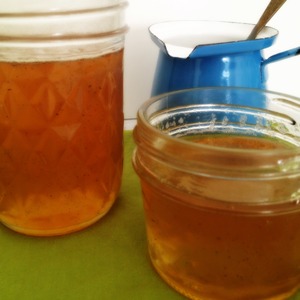 Chef and recipe developer Marnely Rodriguez-Murray of 
Cooking with Books
says of this spiced syrup: "Drizzle it on warm apple pie or vanilla ice cream, mix into your favorite cocktail for a holiday drink, slather on toasted baguettes and top with goat cheese, or dip fresh pears in it for a double flavor party!"
INGREDIENTS
2 USA Pears, peeled, cored, and chopped
1 ½ cups cold water
1 vanilla bean, sliced in half
10 pods green cardamom
Crushed pinch of vanilla salt
1 cup granulated sugar
DIRECTIONS
In a blender, blend the pears and cold water. Pour into a small saucepan and add the vanilla bean, cardamom and vanilla salt. Simmer for 30 minutes on low heat.
Strain through sieve and/or cheesecloth to remove all pulp, bean, and cardamom pods. Return to clean pot (you'll have about 1 cup of spiced pear juice) and add granulated sugar. Cook until syrupy, about 15-20 minutes over low heat.
Cool and pour into glass bottle or jar. Use in cocktails (would be perfect in a gin & tonic), drizzle over ice cream or warm apple pie, or pour into champagne glasses, top with bubbly and say cheers!
yield: Makes 1 ½ cups syrup
photo credit: Marnely Rodriguez-Murray
NUTRITION
Serving Size: 1 TBSP
Calories: 40
Carbohydrate: 10g
Dietary Fiber: 1g
Protein: 0g
---
1 Comment » for Pear and Cardamom Syrup