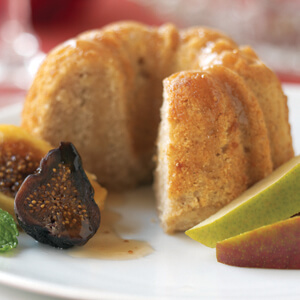 Mini Ginger Pear Cakes with Warm Figs and Pears in Brandied Honey
Serve these charming small cakes for any festive occasion. Fresh pears are baked into the mini Bundt cakes and are also served sliced and gently heated with the figs and delightful brandied honey sauce. Your guests will go ga-ga over this sweet palate-pleaser!
INGREDIENTS
Ginger Pear Cakes
¾ cup granulated sugar
⅓ cup butter, softened
1 large egg
¼ cup finely grated, peeled Bosc or other firm, ripe USA Pear
¼ cup finely chopped crystallized ginger
1 ½ cups all purpose flour
1 teaspoon ground cinnamon
½ teaspoon baking powder
¼ teaspoon baking soda
¼ teaspoon ground allspice
¾ cup buttermilk
Warm Figs and Pears in Brandied Honey
2 to 3 medium-sized, ripe Bosc or other USA Pears, peeled, cored and cut into 18 (½-inch) slices
1 tablespoon lemon juice
⅓ cup water
⅓ cup honey
5 tablespoons brandy, divided use
1 cup halved, stemmed dried figs
DIRECTIONS
For cakes: Preheat oven to 350 degrees. Generously coat 6 mini-Bundt® pans* with vegetable cooking spray. In large bowl, cream sugar and butter with electric mixer, about 5 minutes. On low speed, beat in egg, then pear and ginger. Sift together flour, cinnamon, baking powder, baking soda, and allspice. Add flour mixture in three additions, alternating with buttermilk. Spread batter evenly in pans. Bake 18 to 22 minutes or until pick inserted in cake comes out clean. Cool in pan 5 minutes. Turn out onto wire rack. Serve warm or at room temperature.
Makes 6 mini-bundt pan loafs or 9 (2 1/2-inch) muffin pan cups
For sauce: Place pear slices in bowl and toss gently with lemon juice; set aside. In small saucepan combine water, honey and ¼ cup brandy. Bring to a boil then reduce heat and simmer 2 minutes. Add figs and simmer 3 minutes. Stir in pear slices. Remove from heat and stir in remaining 1 tablespoon brandy.
To serve, place cakes on small plates. Arrange three pear slices on each plate. Top with figs, dividing evenly. Drizzle 1 to 2 tablespoons brandy-honey sauce over fruit and cake on each plate.
NUTRITION
Serving Size: 1 Piece
Calories: 560 (19% Calories from Fat)
Carbohydrate: 99g
Dietary Fiber: 6g
Protein: 7g