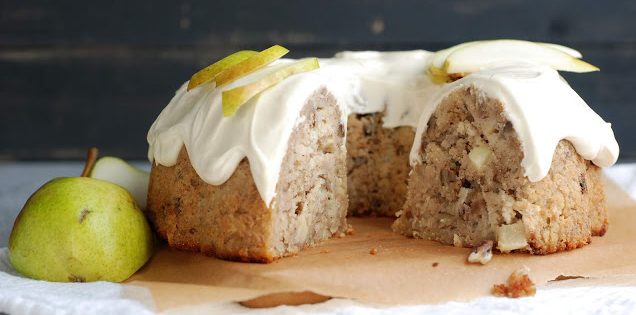 Maple Pecan Pear Cake with Maple Cream Cheese Icing
This Maple Pecan Pear Cake is loaded with chunks of juicy pears, crunchy pecans and the perfect amount of maple syrup. The only thing that could make this cake any better is the maple syrup cream cheese icing on top. Recipe and photography by Fleur De-Lectable.
INGREDIENTS
Maple Pecan Pear Cake
1 cup vegetable oil
1 cup vanilla Greek yogurt
4 eggs
1 Tablespoon vanilla
¾ cup maple syrup
¾ cup lightly packed light brown sugar
1 Tablespoon baking powder
1/2 teaspoon baking soda
1/2 teaspoon salt
2 teaspoons cinnamon
3 cups all-purpose flour
2 Bartlett or Anjou Pears, finely chopped
1 Bartlett or Anjou Pear, shredded
1 cup chopped toasted pecans
Maple Cream Cheese Icing
1 ½ cups powdered sugar
3 Tablespoons room temperature butter
2 ounces room temperature cream cheese
¼ cup maple syrup
1 Tablespoon vanilla coffee creamer
DIRECTIONS
Preheat the oven to 350 degrees and spray a Bundt pan generously with non-stick baking spray.
In a large mixing bowl whisk together the oil, Greek yogurt, eggs, vanilla, maple syrup and brown sugar.
Add the baking powder, baking soda, salt and cinnamon and whisk until combined. With a spatula, gently fold in the flour, chopped and shredded pears and the pecans just enough for the mixture to come together but being very careful not to over-mix.
Pour the batter into the prepared pan and bake for 1 hour, or until a toothpick in the center comes out clean.
Let the cake cool in the pan for 20 minutes.
Remove the cake from the pan and transfer to a wire rack to cool completely.
While the cake is cooling, prepare the icing:
In a small mixing bowl beat the powdered sugar, butter, cream cheese, maple syrup and coffee creamer until smooth. Once the cake has fully cooled, drizzle the icing over the cake. Serve immediately.
NUTRITION