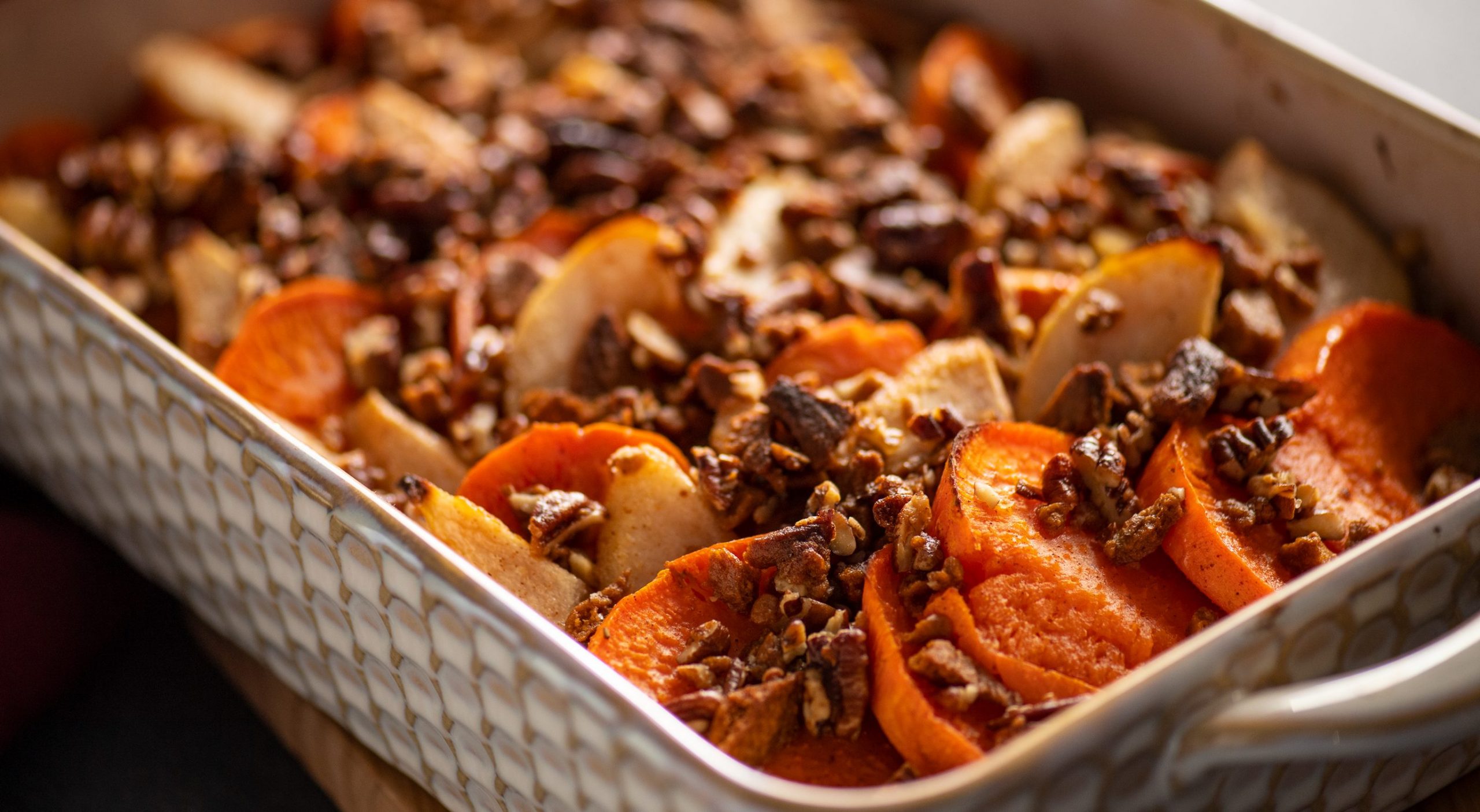 Maple-Glazed Sweet Potato & Pear Casserole
In this updated take on the classic sweet potato casserole, sliced pears are layered in for delicious sweet flavor, enhanced by a buttery maple glaze. It's baked with a fun topping of chopped pecans and crumbled gingersnaps for crunchy texture—no marshmallows needed!
INGREDIENTS
3 large sweet potatoes (about 3 pounds)
3 large USA Bosc Pears, peeled, cored and cut into 1/4-inch slices
2 tablespoons fresh lemon juice
1/2 cup (1 stick) unsalted butter (divided)
1/2 cup pure maple syrup
1 1/4 teaspoons kosher salt (divided)
1 teaspoon ground cinnamon
1/2 teaspoon ground ginger
1/2 cup chopped pecans
1/2 cup chopped gingersnap cookies
DIRECTIONS
Preheat the oven to 400˚F.
Prick the sweet potatoes in several places with a fork and place them on a large microwave-safe plate with space between them. Microwave on high until just tender in the center, 10 to 12 minutes, turning once after 5 minutes. Alternatively, the sweet potatoes can be placed on a baking sheet and roasted in the oven for 45 minutes to 1 hour. Set aside until cool enough to handle, then peel the sweet potatoes and cut them into 1/4-inch thick slices.
Toss the pears with the lemon juice in a large bowl. Add the sweet potatoes and toss together. Layer the sweet potatoes and pear slices in a 3-quart baking dish.
In a small saucepan, combine 6 tablespoons of the butter, the maple syrup, 1 teaspoon of the salt, the cinnamon, and ginger. Place the pan over medium heat until the butter is melted and the mixture comes to a simmer. Pour the butter mixture evenly over the sweet potatoes and pears. Bake, uncovered, until the sweet potatoes and pears are very tender when pierced with a fork, about 30 minutes.
Meanwhile, in a medium bowl, mix the pecans and gingersnaps with the remaining 1/4 teaspoon of salt. Melt the remaining 2 tablespoons of butter and stir it in to the topping mixture.
Remove the baking dish from the oven and spoon the juices from the bottom of the dish over the top of the sweet potatoes and pears. Sprinkle evenly with the pecan topping. Continue baking until the topping is lightly toasted, 10 to 15 minutes. Let rest for 5 to 10 minutes, then serve hot, spooning some of the glaze over each serving.
NUTRITION