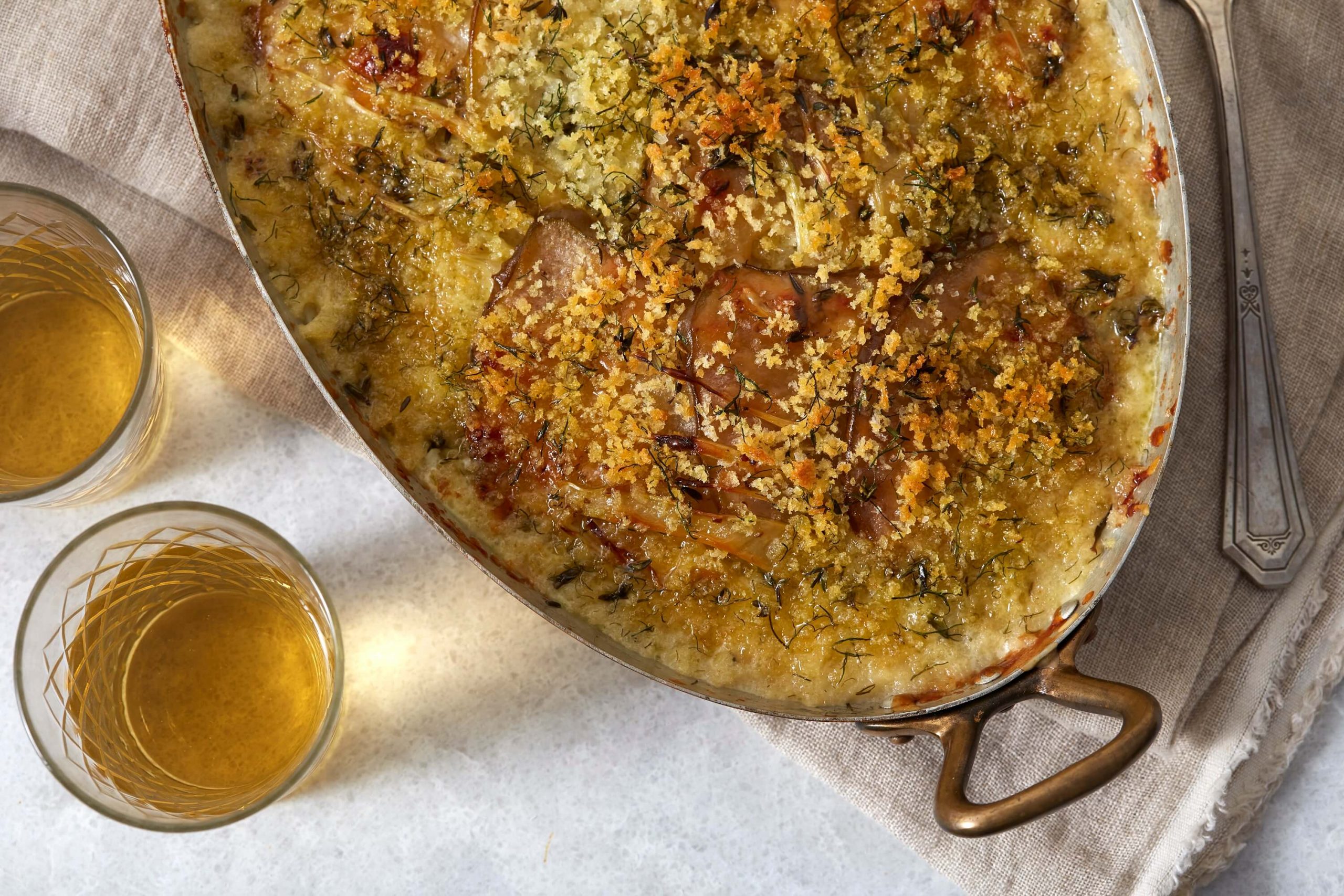 Pear-Fennel Gratin with Thyme and Gruyère
A gratin is the ultimate winter comfort dish, and it isn't just for potatoes. Pears mixed with just about any vegetable can be baked in a blanket of creamy sauce and crunchy toppings. This combination of perfumed pears and fennel makes an ideal sidekick to a roast chicken, pan-seared salmon fillets, and other fish. Any variety of large pears will do in this recipe—juicier pears, like Anjous, will create a looser sauce in the pan, while Boscs offer a firmer and less sweet result. The splash of dry sherry gives an aromatic twist, but it is an optional addition.
INGREDIENTS
1/3 cup heavy cream
2 teaspoons dry sherry (optional)
4 teaspoons fresh thyme leaves
1 1/2 teaspoons kosher salt, plus more
1/2 teaspoon freshly ground white pepper, plus more
2 large, ripe USA Pears
2 fennel bulbs, tops trimmed reserving fronds
6 ounces Gruyère cheese, grated
3/4 cup panko bread crumbs
2 tablespoons extra-virgin olive oil
DIRECTIONS
Preheat the oven to 375˚F. In a small bowl, combine the cream, sherry (if using), 2 teaspoons of the thyme, the salt, and pepper.
Using a mandoline or chef's knife, cut the pears lengthwise into thin planks, removing the seeds, core, and stem from the center slices. Slice the fennel bulb lengthwise as thinly as possible.
In a 2-quart baking dish, layer half of the pear planks and half of the fennel slices. Drizzle with half of the cream mixture and sprinkle with half of the cheese. Repeat to create another layer. Cover with foil and bake until the pears and fennel are tender when pierced with a fork, about 1 hour.
Meanwhile, in a small bowl, mix the panko with the remaining 2 teaspoons of thyme, 1 tablespoon coarsely chopped fennel fronds, the olive oil, a pinch of salt, and several grinds of pepper.
Sprinkle the topping over the gratin. Continue baking until the topping is evenly browned and the pears and fennel are very tender, 20 to 25 minutes. Let rest for 5 to 10 minutes, then serve hot.
NUTRITION
Serving Size: 6.5 oz
Calories: 290
Fat: 19g
Carbohydrate: 21g
Dietary Fiber: 5g
Protein: 11g