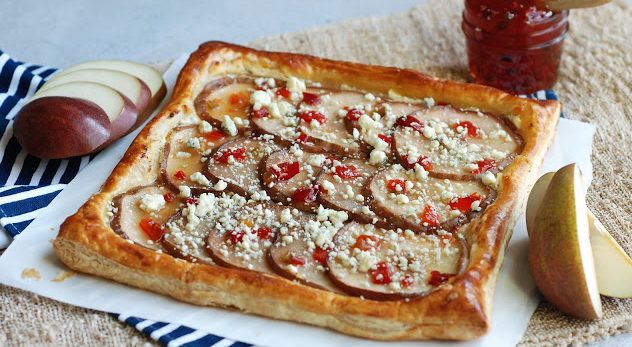 Pear and Pepper Jelly Blue Cheese Tart
This tart is absolutely gorgeous and loaded with decadent holiday flavors. With only 6 ingredients and less than 30 minutes to throw together this may be your new go-to appetizer for the season! Recipe and photography by Fleur De-Lectable.
INGREDIENTS
1 sheet of puff pastry, defrosted
2 ½ ounces garlic and herb flavored spreadable cheese, at room temperature
1 large ripe Red Anjou pear, thinly sliced
1 egg yolk beaten with a splash of water
¼ cup jalapeno pepper jelly
2 Tablespoons crumbled blue cheese
DIRECTIONS
Preheat the oven to 400 degrees and line a large cookie sheet with parchment paper.
Place the Puff Pastry sheet onto a lightly floured board and lightly flatten with a rolling pin. Poke a few holes with a fork down the center of the pastry.
With an offset spatula, spread the garlic and herb cheese in the center of the dough leaving a ½ inch rim around the edges. Refrigerate for 10 minutes.
Remove from the refrigerator and arrange the pear slices in rows, slightly overlapping on top of the cheese. Brush the edges with the egg yolk and bake for 15 to 20 minutes or until golden brown.
Remove from the oven and brush the pear slices with the pepper jelly. Sprinkle with the blue cheese crumbles and serve.
Makes 9 servings.
NUTRITION
Serving Size: 1 Tart (66g)
Calories: 240
Fat: 15g
Carbohydrate: 22g
Dietary Fiber: 1g
Protein: 3g