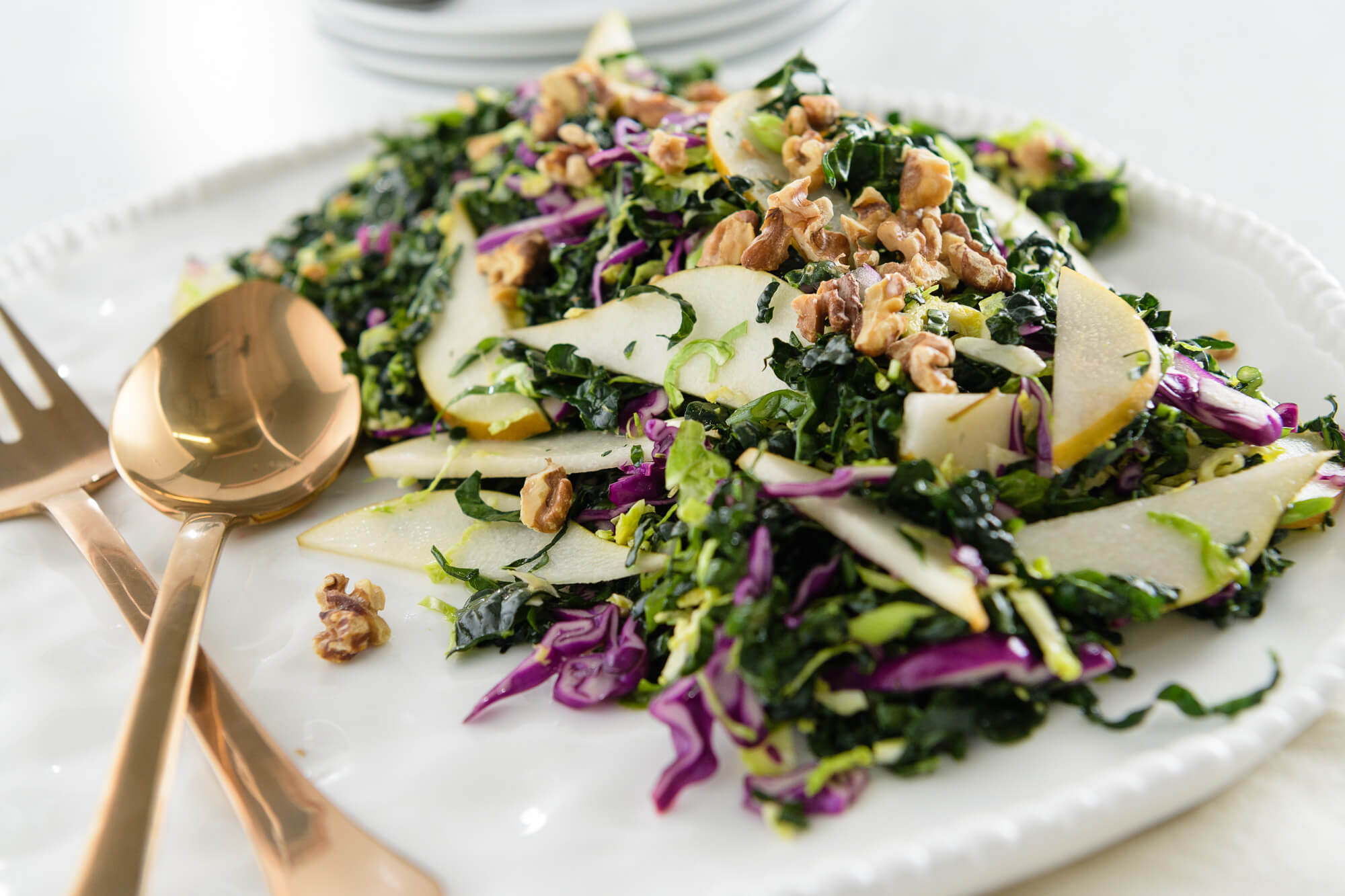 Kale Cabbage and Pear Salad with Citrus Dressing
Here is a quick fruit and vegetable salad with a sweet and tangy dressing. This salad makes an ideal side dish for a simple summer dinner of grilled fish or chicken, but it will also transition well into the fall as a bright and fresh side for roasted meat. This recipe is the perfect use for slightly under-ripe pears—they will add a unique texture and flavor to this colorful salad.
INGREDIENTS
Dressing
½ cup freshly squeezed orange juice
¼ cup freshly squeezed lime juice
2 tablespoons sugar
1 teaspoon salt
2 tablespoons grapeseed oil (or other neutral-flavored oil)
Salad
1 small bunch Lacinato kale, stemmed and shredded
1 small head red cabbage, cored and shredded
3-5 Brussels sprouts, shredded
4 scallions, thinly sliced
2 firm USA Pears, such as Bosc, cored and thinly sliced
¼ cup walnuts, raw or toasted
DIRECTIONS
For the dressing: Combine all of the ingredients in a jar with a tight-fitting lid and shake vigorously to dissolve the sugar and salt. Set aside until you are ready to dress the salad.
For the salad: In a large bowl, combine the cabbage, kale, scallions, and pears. Toss gently with the dressing to thoroughly coat the ingredients. Transfer to a clean bowl or platter and garnish with the chopped walnuts.
NUTRITION
Serving Size: 5 oz
Calories: 120
Carbohydrate: 17g
Dietary Fiber: 3g
Protein: 2g