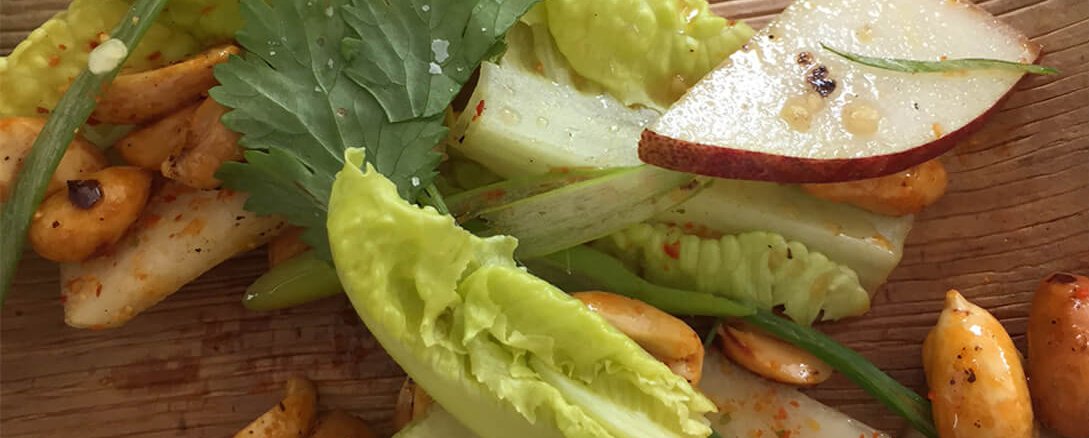 Grilled and Fresh Pear Salad with Chile Oil and Togarashi
Flavorful Thai inspired salad with grilled and fresh pears for contrasting flavor and texture. Complex spice and chile blend to brighten a meal.
INGREDIENTS
Salad:
4 firm but ripe USA Pears
1 bottle of store-bought togarashi (Asian market) – use to taste
1 Thai chile
1 head romaine, cleaned hearts only
1 cup cleaned cilantro
1 bunch scallions
1 cup toasted peanuts
1 bottle chile oil (Asian market)
Dressing:
2 tbsp fish sauce
1 tbsp soy sauce
1/4 cup sesame oil
2 tbsp rice wine vinegar
2 cloves garlic
2 inch fresh ginger
1 lime
DIRECTIONS
Peel ginger root and slice into rounds, then chop finely.  Add garlic cloves and continue mincing with ginger. Remove stem from the Thai chile and chop finely into the ginger and garlic. Place chopped mixture into a bowl. Add vinegar, soy, fish sauce, and juice of the lime. Cover and refrigerate.
Cut half of the pears into large wedges, lightly oil and season. Grille the pears over high heat only enough to create grill marks. Do not overcook, but color is crucial.
Cover the toasted peanuts in the chile oil. Place in small bowl.
Slice the green onion on an extreme bias to get 1 inch thin strips
Thinly slice the other two pears into 1/4 inch thick slices.
TO ASSEMBLE:
Toss the leaves of romaine into the dressing
Arrange leaves of romaine on plate
Add grilled and fresh pears to the same boal with dressing to coat
Season the pears in the bowl with togarashi to coat outside of pear pieces, togarashi is spicy so season to your tastes
Arrange pears on the plate so each bite is grilled and fresh
Garnish the salad with scallion, cilantro and a sprinkle of togarashi.
Serve with chile oil peanuts on the side.
NUTRITION
Serving Size: 1 Salad (218g)
Calories: 400
Carbohydrate: 25g
Dietary Fiber: 7g
Protein: 8g
---
1 Comment » for Grilled and Fresh Pear Salad with Chile Oil and Togarashi