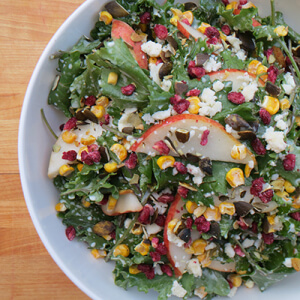 Kale and Pear Salad with Lime-Yogurt Dressing
If you've yet to find a kale salad you love, try making this one, which calls for baby kale, the young, tender leaves of the plant. Toss the baby kale with sweet, ripe pears and my lime yogurt dressing, and then add texture and color with freeze-dried corn, salty pumpkin seeds, crumbled cotija cheese, and the bright pop of pomegranate seeds. If you find fresh pomegranates are unavailable, use freeze-dried seeds—you can often find a small section with a variety of freeze-dried fruits and veggies at a natural foods store. Store them in your pantry, and you'll be enjoying this salad all summer long!
INGREDIENTS
Dressing
¼ cup freshly squeezed lime juice
1 tablespoon honey
2 tablespoons plain yogurt
⅓ cup grapeseed oil
¼ teaspoon salt
Salad
5 ounces baby kale
2 firm ripe USA Pears, such as Bartlett, Red Anjou, or Green Anjou, sliced
⅓ cup freeze-dried corn
⅓ cup pumpkin seeds (without hulls)
⅓ cup crumbled cotija cheese
¼ cup pomegranate seeds
DIRECTIONS
For the dressing: Place all ingredients into a jar with a tight-fitting lid and shake vigorously.
For the salad: Set aside about half of the cotija cheese and the pomegranate seeds for garnish. Combine the remaining ingredients in a large bowl and toss gently with about ⅔ of the dressing. Reserve the remaining dressing for drizzling on the salad, if desired. Sprinkle the tossed salad with the crumbled cheese and the pomegranate seeds and serve.
NUTRITION
Serving Size: 1 Cup
Calories: 370
Carbohydrate: 30g
Dietary Fiber: 6g
Protein: 9g