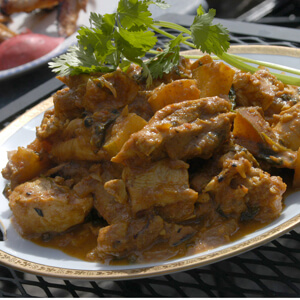 Chicken Curry with USA Pears
This delicious curry recipe is provided courtesy of Master Chef Sanjeev Kapoor of India. Garam masala is a common seasoning blend used in Indian cuisine. It can be purchased at Asian markets or Indian stores.
INGREDIENTS
800 grams (about 12 medium pieces) boneless chicken tenderloin
2 USA Pears; 1 cored and cubed, 1 cored and pureed
1 cup plain yogurt
Salt to taste
1 teaspoon red chile powder, divided
1 teaspoon garam masala powder, divided
1 teaspoon turmeric powder, divided
1 tablespoon fresh coriander leaves
2 tablespoons vegetable oil
5 peppercorns
4 green cardamom pods
2 bay leaves
1 cinnamon stick
2 whole red chile peppers
2 onions, chopped
1 teaspoon garlic paste
½ cup pureed tomatoes
DIRECTIONS
Mix chicken, pureed pear, yogurt, salt, ½ teaspoon red chile powder, ½ teaspoon garam masala powder, and ½ teaspoon turmeric powder and marinate, refrigerated, for about one hour. Chop a few sprigs of coriander leaves and add to the marinade. Grill the marinated chicken pieces on a barbecue, turning a few times until evenly cooked all around. Once done cut into medium size pieces and set aside.
Heat oil in a pan. Add peppercorns, cardamom pods, cinnamon, bay leaves, and whole red chiles and sauté. Add chopped onions and sauté until onions turn golden. Add garlic paste and continue to sauté. Add tomato puree and mix. Add ½ teaspoon turmeric powder and ½ teaspoon red chile powder and sauté for a few minutes. Add the remaining marinade and mix well. Add one cup of water and let it cook for 3 to 4 minutes.
Add chopped pear and mix. Remove the bay leaf and add salt, coriander leaves, and grilled chicken pieces. Add ½ teaspoon of garam masala and cook for 5 minutes. Serve hot.
NUTRITION
Serving Size: 12 oz
Calories: 310
Carbohydrate: 22g
Dietary Fiber: 4g
Protein: 33g
---
1 Comment » for Chicken Curry with USA Pears