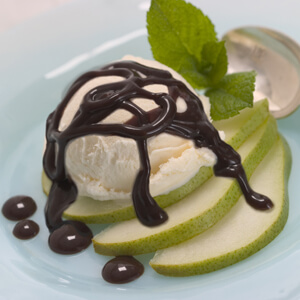 This pretty sundae gets seasonal flavor from the addition of fresh pears. Add a different flavor of ice cream (peanut butter, rocky road, strawberry) to make it your own!
INGREDIENTS
1 pint vanilla ice cream
1 cup chocolate fudge sauce
2 ripe Anjou USA Pears, peeled, cored, and sliced
DIRECTIONS
Place slices of pear into dessert cups.
Top with scoops of vanilla ice cream.
Heat chocolate fudge sauce and pour over ice cream. Serve immediately.
NUTRITION
Serving Size: 1 Sundae (225g)
Calories: 450
Carbohydrate: 77g
Dietary Fiber: 6g
Protein: 6g