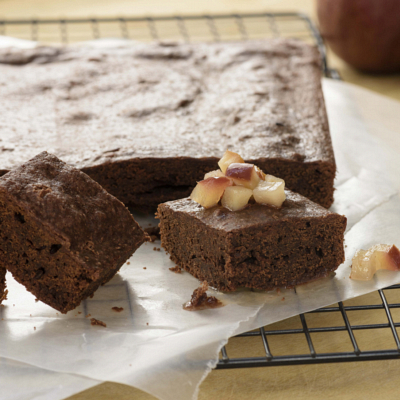 Chocolate Cricket Decadence Cake
This flourless chocolate cake is ridiculously easy to put together and has a rich flavor, which matches well with the nuttiness of the cricket powder. I use a dark chocolate (64%) but you can use any dark chocolate you prefer, as long as it is good chocolate! The pear ginger compote is a spicy accompaniment. Make sure to use a firm pear for the compote that won't break down in cooking (I like red D'anjou for the color and flavor!)
INGREDIENTS
For Brownies
Dark chocolate – 7 ounces
Butter – 1 stick
Cornstarch – ½ cup
Cricket flour – ¼ cup
Sugar – ½ cup + 1 tsp
Salt – ½ tsp
Eggs – 4 room temperature
Pear brandy – 1 Tbsp (optional)
For Pear Compote
Sugar – ½ cup
Water – ½ cup
Ground ginger – ½ tsp
Kosher salt – pinch
Vanilla – ¼ tsp
Pears – 2 cups diced (about 3 pears)

DIRECTIONS
For Brownies
Preheat oven to 350 degrees
Spray an 8" square brownie pan or pie plate with pan spray
Whisk together dry ingredients and set aside
Place a metal bowl on top of a saucepan of simmering water. Melt together butter and
chocolate, stirring occasionally to make sure both are combined
When chocolate and butter are completely melted and mixed, pour into bowl with dry
ingredients. Whisk to combine.
Add the eggs and optional brandy and whisk until combined
Pour into prepared pan and bake 20 minutes or until center is *just* set Do not overbake! You want the result to be fudgy.
Let cool in the pan – Slice and serve with a spoonful of the pear compote.
For Pear Compote
Combine sugar, water, ginger, salt and vanilla in saute pan.
Cook over medium heat until the syrup is reduced and thickened slightly
Add pears and cook until just cooked through when pierced with a fork or toothpick
Allow pears to cool in syrup
NUTRITION
Serving Size: 1 Small Brownie (52g)
Calories: 180
Carbohydrate: 27g
Dietary Fiber: 1g
Protein: 3g