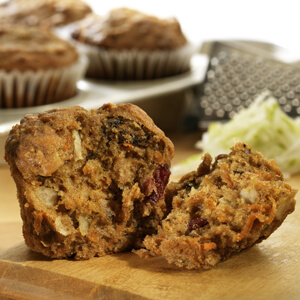 Pear Carrot Cranberry Muffins
Nourishing muffins that are great for a snack, a weekday breakfast, or even to keep everyone happy on a road trip!
INGREDIENTS
1 cup all-purpose flour
1 cup whole wheat flour
¾ cup granulated sugar
2 teaspoons baking soda
1 teaspoon salt
2 teaspoons cinnamon
1 large firm, ripe USA Pear (about 1-¼ cup grated)
1-¾ cups grated carrots
½ cup dried cranberries
½ cup toasted walnuts, coarsely chopped (optional)
½ cup unsweetened coconut
⅔ cup vegetable oil
3 eggs
1 teaspoon vanilla
DIRECTIONS
Preheat oven to 350 degrees. Line a standard-size 12-cup muffin tin with paper liners or lightly grease it, then dust with flour.
Combine all-purpose and whole wheat flour, sugar, baking soda, salt, and cinnamon. Stir well or sift together if lumpy.
Measure grated pear and carrots into another bowl and add cranberries, nuts, if using, and coconut.
Whisk oil, eggs and vanilla together until slightly lighter in color.
Add wet ingredients to dry, folding in gently until they are completely moistened and well distributed. Scoop batter into muffin liners.
Bake 30 to 35 minutes or until slightly darker around the edges.
NUTRITION
Serving Size: 1 Pear
Calories: 220
Carbohydrate: 40g
Dietary Fiber: 6g
Protein: 1g
---
1 Comment » for Pear Carrot Cranberry Muffins