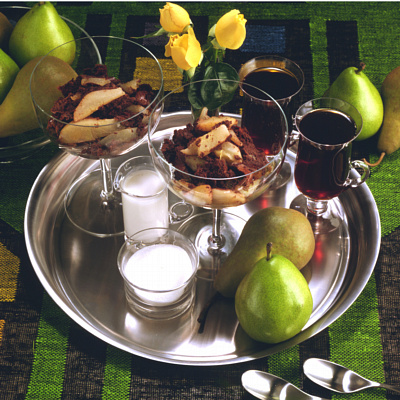 This decadent dessert for two is disarmingly simple to prepare. Double it for dinner parties and turn dessert into a chocolate celebration!
INGREDIENTS
1 tablespoon butter
1 tablespoon flour
½ cup milk
3 tablespoons cocoa
2 ½ tablespoons sugar
2 egg yolks
¼ teaspoon vanilla
2 egg whites
1 fresh Bosc or Anjou USA Pear, peeled and sliced
DIRECTIONS
Melt butter; blend in flour. Heat milk, cocoa, and sugar together until hot, but not boiling; add all at once to flour mixture, stirring constantly. Beat egg yolks until light. Blend small amount of sauce into yolks; add mixture to sauce. Cook and stir over low heat until slightly thickened. Add vanilla. Cover and cool. Beat egg whites until stiff but not dry; fold into cooled chocolate mixture. Lay sliced pears in bottom of buttered 4-cup baking dish; pour chocolate mixture over. Bake at 350 degrees for 30 minutes or until set. Serve immediately.
NUTRITION
Serving Size: 8 oz
Calories: 280
Carbohydrate: 33g
Dietary Fiber: 4g
Protein: 10g