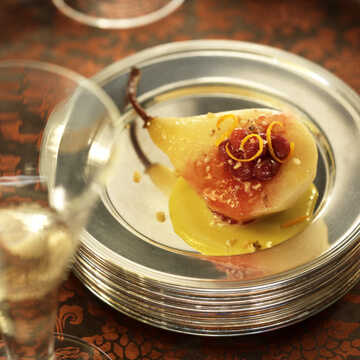 Honey Roasted Pears with Orange Cranberry Compote
This recipe, developed by Chef Jeff Rollins of Austin, Texas, has an elegant presentation and a surprising twist from the tangy compote, making it perfect for any special occasion.
INGREDIENTS
Honey Roasted Pears
3 Bartlett, Bosc, or Concorde USA Pears
½ cup orange blossom honey
1 whole clove
⅓ cup late harvest Riesling
1 teaspoon lime juice
Orange Cranberry Compote
1 pound fresh or frozen cranberries
1 cup chopped walnuts
½ cup packed brown sugar
½ cup water
1 tablespoon unsalted butter
1 teaspoon grated orange zest
1 teaspoon Grand Marnier
Armagnac Sabayon
6 egg yolks
½ cup Armagnac, divided
⅓ cup granulated sugar
DIRECTIONS
For pears: Preheat oven to 400 degrees. Peel, halve, and core pears, making a cavity for the compote about 1 ½ inches in diameter and ½-inch deep. Heat honey and clove in a large oven-proof skillet over medium heat. (If pan handle is plastic, wrap in a double layer of aluminum foil.) Add pears and sauté until lightly browned, 3–4 minutes, being careful not to burn. Remove from heat. Add Riesling and lime juice; bring to a boil. Place pan in oven and bake until pears are just tender, about 10 minutes. Remove pears from syrup and cool, reserving syrup in pan.
For compote: Combine all ingredients except Grand Marnier in a medium saucepan. Bring to a boil, reduce heat and stir constantly until about one third of the cranberries pop, and liquid is slightly thickened. Add Grand Marnier. Pour into a bowl to cool. Compote should thicken as it cools.
For sabayon: Combine yolks, 6 tablespoons Armagnac and sugar in a heat-proof bowl that fits over a medium saucepan. Fill saucepan with 1-2 inches of water and bring to a low simmer. Whisk mixture constantly over simmering water until light and fluffy and volume is doubled. If edges start to scramble, immediately remove bowl from saucepan and whisk rapidly, returning bowl to pan to finish cooking if needed. Whisk in 1-2 tablespoons remaining Armagnac to lighten the sabayon.
To serve: Reheat pears briefly in honey syrup over low heat. Mound about 2 tablespoons compote in pear cavities. Place a spoonful of sabayon in center of dessert plates and set a pear on top. Drizzle a little of the honey mixture over pears and serve.
NUTRITION
Serving Size: 1 Half Pear (263g)
Calories: 550
Carbohydrate: 78g
Dietary Fiber: 10g
Protein: 9g