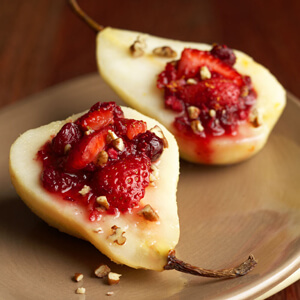 Roasted Pears with Strawberry Relish
Fresh, elegant, and ready in a snap, this perfect pairing of strawberries and pears is a versatile dish that can be served as an appetizer, side, or even dessert. Ginger and orange zest add zing!
INGREDIENTS
1 (16 ounce) can whole-berry cranberry sauce
⅔ cup (about 10 ounces) frozen whole strawberries, cut in half
½ cup chopped toasted pecans
1 tablespoon chopped crystallized ginger
1 teaspoon grated orange zest
4 firm, ripe USA Pears
1 tablespoon melted butter
DIRECTIONS
For relish: In microwave, heat cranberry sauce in large Pyrex bowl for 2 minutes on high power, or heat in saucepan over low heat until warm. Stir in strawberries, pecans, ginger, and orange zest. Keep warm.
Peel pears; cut in half. With spoon, scoop out seeds and enough flesh to make a large cavity. Place pears on baking sheet, cut side up, and brush with butter. Turn pears over and brush with butter again. Place under broiler until pears start to brown; turn pears over with spatula and broil cut sides until they start to brown, about 4 minutes on each side. Fill cavity of each pear half with ¼ cup strawberry relish.
Special thanks to our friends at the California Strawberry Commission for sharing this recipe. Visit them online at www.calstrawberry.com!
Nutritional Analysis per Serving: 204 Calories; 7g Fat; 4mg Cholesterol; 14mg Sodium; 38g Carbohydrate; 4g Fiber; 1g Protein
NUTRITION
Serving Size: 1 Half Pear
Calories: 180
Carbohydrate: 32g
Dietary Fiber: 5g
Protein: 1g