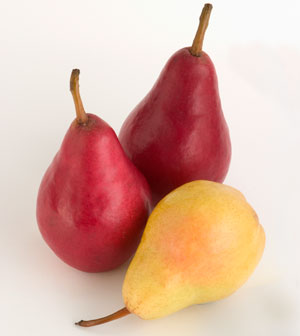 The tropics touch this chutney with the addition of pineapple and just enough spice with a touch of cayenne pepper in the mix.
INGREDIENTS
2 ½ pounds (6 to 7) ripe Bartlett or Starkrimson Pears, cored and chopped
1 can (8 ounces) crushed pineapple
½ cup vinegar
½ cup packed brown sugar
1 cup golden raisins
2 tablespoons finely chopped candied ginger
1 ½ teaspoons salt
2 cloves garlic, crushed
½ teaspoon cayenne pepper
½ teaspoon ground cloves
½ teaspoon ground cinnamon
½ cup slivered almonds
DIRECTIONS
Combine all ingredients except almonds. Bring to boil; cook and stir over low heat for 30 minutes or until slightly thickened. Stir in almonds. Ladle into clean, hot canning jars to within ½-inch of tops. Seal according to jar manufacturer's directions.
Place jars on rack in canner. Process 10 minutes in boiling water bath with boiling water 2 inches above jar tops. Remove jars from canner. Place on thick cloth or wire racks. Cool away from drafts. After 12 hours test lids for proper seal; remove rings from sealed jars.
yield: Makes about 3 pints
NUTRITION
Serving Size: 1 TBSP
Calories: 25
Carbohydrate: 6g
Dietary Fiber: 1g
Protein: 0g
---
1 Comment » for Hawaiian Pear Chutney