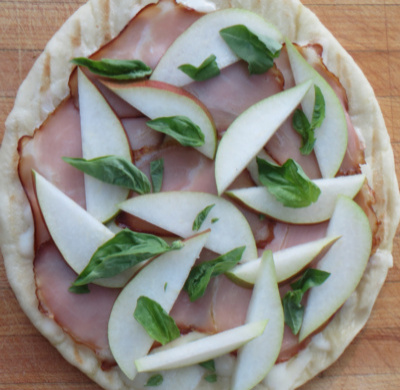 Grilled Pizzettas with Pears, Shaved Ham, and Fresh Basil
Cooking pizza on the grill is an excellent way to keep your house cool in the summer and still enjoy one of your favorite dinners—and it's easier than you think! This recipe makes four individual pizzettas, so everyone can enjoy their very own. You'll lightly crisp one side of the pizza crusts, flip them, top them, and cook them until they're done to your liking. Fresh USA Pear slices, shaved ham, and fragrant basil make the perfect summer toppings for this lighter (but no less delicious) version of this beloved meal.
INGREDIENTS
1 ball (16 ounces) store-bought pizza dough
Flour for rolling out dough
2 tablespoons olive oil
8 ounces mozzarella cheese, grated
4 ounces best-quality shaved ham
2 firm ripe USA Pears, such as Green or Red Bartlett
Several stems fresh basil leaves
DIRECTIONS
About an hour before you'd like to eat, remove the pizza dough from the refrigerator and divide it into four equal portions. Gently shape each portion into a ball and set on a cutting board, covered loosely with plastic wrap. Let the dough soften for about 30 minutes before you proceed.
After 30 minutes, preheat your grill to medium heat. While the grill heats, start working on the dough. One at a time, lightly flour each piece of dough and press it out into an approximately 6-inch disk with your fingers or a rolling pin. Set the dough aside until ready to grill. Next, get all of the toppings ready to go and in one place—you'll want to have everything ready for topping the pizzettas. Place the olive oil in a small bowl with a brush, grate the mozzarella, and slice the pears. Now you're ready to head out to the grill!
First, brush the grill with olive oil to prevent sticking. Now carefully lay the pizza dough out on the grill, either two or four at a time. Close the grill and allow the dough to cook for 3-4 minutes. Once the crusts are firm on the first side, flip them to the second side using a large spatula. Brush each crust generously with olive oil and top with the cheese, shaved ham, and pears. Close the grill cover again and allow the pizzettas to cook for 3-5 minutes more until done to your liking. Transfer the pizzettas to a cutting board and top with the freshly torn basil leaves. Slice and serve immediately.
NUTRITION
Serving Size: 1 Pizzetta (277g)
Calories: 620
Carbohydrate: 70g
Dietary Fiber: 5g
Protein: 28g