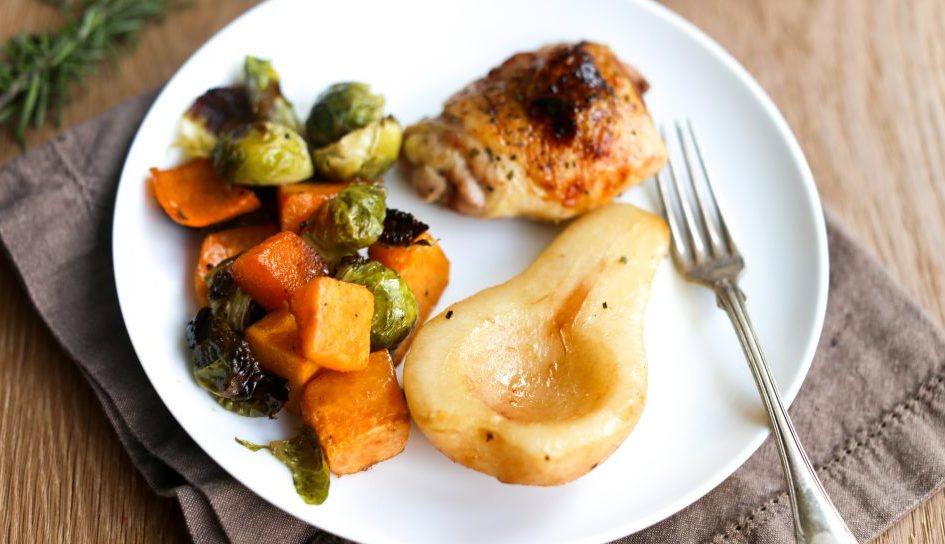 One-Pan Roasted Chicken and Pears
Craving delicious fall flavors? This beautiful meal marries bright Bosc pears, hearty veggies and juicy chicken breasts in just 30 minutes — and all in a single pan. This recipe originally appeared on the MyFitnessPal blog. 
INGREDIENTS
1 tablespoon honey
1 tablespoon olive oil
1 teaspoon balsamic vinegar
12 ounces brussels sprouts, washed, ends trimmed and halved
12 ounces butternut squash, cut into 1-inch cubes (about 2.5 cups)
2 Bosc Pears, peeled, sliced in half and cored
3/4 teaspoon kosher salt, divided
1/2 teaspoon cracked black pepper, divided
1 tablespoon chopped, fresh rosemary
4 (5-ounce) skin-on, bone-in chicken thighs
DIRECTIONS
Preheat oven to 425°F and lightly grease the bottom of a large baking sheet with cooking spray.
In a small bowl, whisk together the honey, olive oil and balsamic vinegar. Place brussel sprouts, squash and pears on the rimmed baking sheet, brush with honey mixture and stir well to coat evenly.
Next, combine 1/2 teaspoon kosher salt, 1/4 teaspoon cracked black pepper and rosemary in a small bowl. Using a paper towel, pat chicken thighs until very dry and rub the seasoning over both sides. Place chicken in the center of the baking pan and sprinkle the remaining salt and pepper over pears and vegetables.
Roast, stirring pears and vegetables occasionally, until they are tender and chicken is cooked throughout, about 30-35 minutes. Portion and enjoy.
Chef's Notes:
For extra tender chicken, dry, season and store the chicken overnight in the refrigerator, loosely covered with wax or parchment paper.
Want a quick tip on knowing when a pear is ripe? Check the Neck™! Apply gentle pressure to the neck of the pear with your thumb. If it yields to pressure, it's ripe.
Note: This recipe originally appeared on the MyFitnessPal blog.
NUTRITION
Serving Size: 1 Thigh + 1/2 Pear + 1 Cup Vegetables
Calories: 465
Carbohydrate: 35g
Dietary Fiber: 7g
Protein: 27g
---
2 Comments » for One-Pan Roasted Chicken and Pears