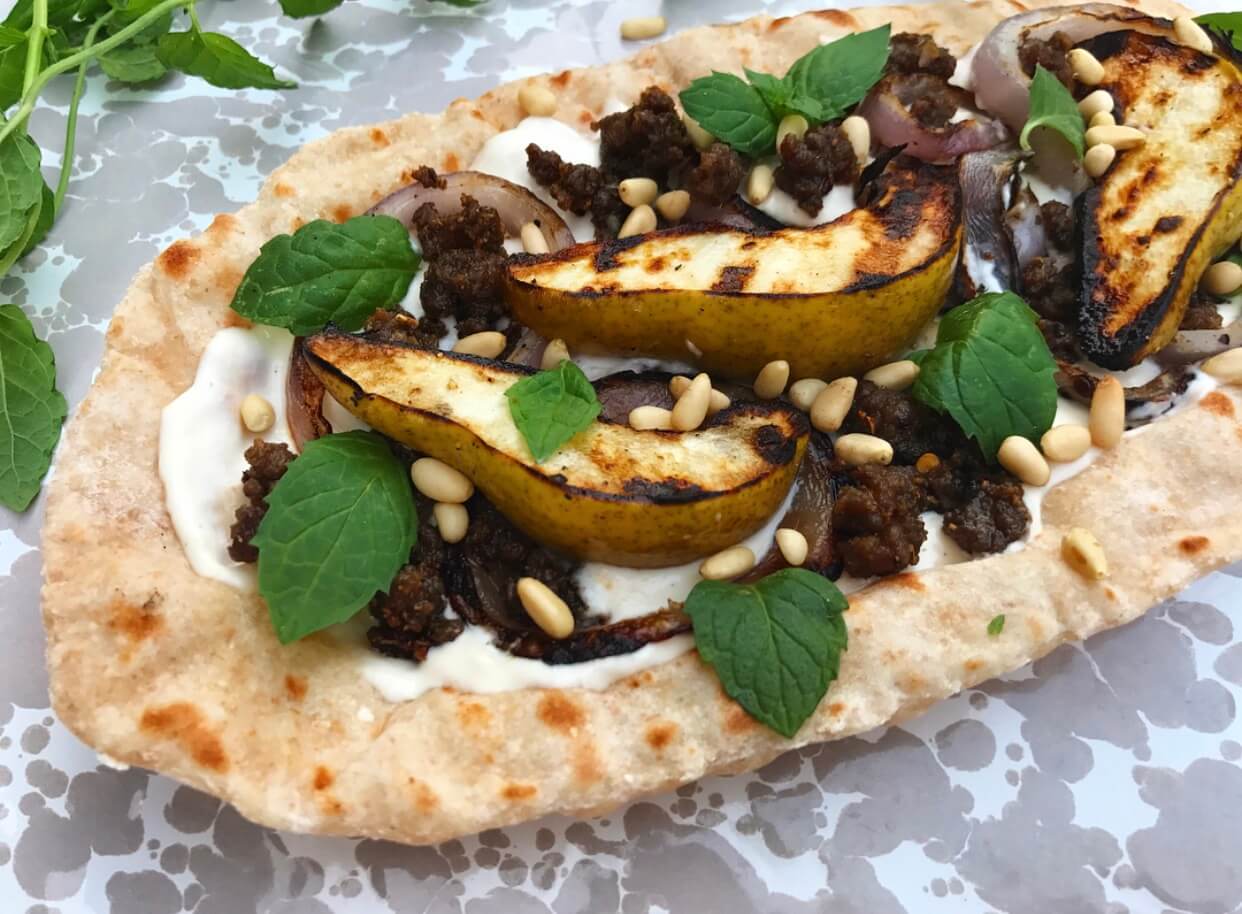 Grilled Pear and Lamb Flatbreads
Pears and meat are a winning combination. We often think of pork and chicken with fruit, but let's not overlook lamb. That robust flavor is deliciously complemented by sweet, aromatic charred pears hot off the grill, and both partner perfectly with Middle Eastern flavors. Here we have a complete meal cooked almost entirely on the grill. A very simple dough is rolled out to make homemade flatbreads that get cooked right on the grill, and then topped with sliced grilled pears and red onions, spiced ground lamb, charred halloumi cheese, and an addictive yogurt-tahini sauce. Think of these flatbreads as a pizza of sorts, perfect for a patio party, and they're as delicious hot as they are at room temperature.
INGREDIENTS
Dough
1 cup unbleached all-purpose flour, plus more for dusting
1 cup whole-wheat flour
2 teaspoons salt
1/2 teaspoon sugar
1/2 teaspoon baking powder
1 cup plain yogurt (not Greek)
Toppings
1 cup yogurt
1/3 cup tahini sauce
Juice of 1 lemon
1 large garlic clove, crushed
Salt and freshly ground black pepper
1 tablespoon extra-virgin olive oil, plus more for brushing
1 pound ground lamb
1 1/2 teaspoons ground fennel seed
1 1/2 teaspoons ground cumin seed
1 1/2 teaspoons ground coriander
1/2 teaspoon dried chile flakes
3 USA Green Bartlett Pears, halved, cored, and cut into 8 wedges each
1 red onion, cut into 1/2-inch-thick disks (each layer kept together)
8 ounces halloumi cheese, cut into 3/4-inch-thick slabs
Pine nuts, for topping
Handful torn mint leaves, for topping
DIRECTIONS
To make the dough: In a large bowl, whisk the flours, salt, sugar, and baking powder. Add the yogurt and fold it in with a rubber spatula, just until blended. Dump the dough onto a work surface dusted generously with flour. Knead the dough gently until smooth, about 30 seconds, then cut it into 6 equal portions. Using a well-floured rolling pin, roll each portion of dough into an imperfect oval, about 1/8-inch thick. Add more flour to the surface or the pin as needed, as the dough will be rather sticky. On a large baking sheet, stack the dough between sheets of parchment paper, and cover loosely with plastic wrap while you prepare the toppings and preheat the grill, or for up to 1 hour.
To make the toppings: In a small bowl, whisk the yogurt, tahini, lemon juice, garlic, and 1/2 teaspoon salt. Taste and adjust the seasoning, then cover and set aside.
Heat the oil in a skillet over medium-high heat. Add the lamb, fennel seed, cumin, coriander, chile flakes, and season with 1 teaspoon of salt and several grinds of pepper. Cook, stirring often, until the liquid has evaporated, and the lamb browns and becomes slightly crispy in the rendered fat, 7 to 9 minutes. Remove the pan from the heat and set aside.
Prepare a fire in a charcoal or gas grill. For charcoal, when the coals are ready, distribute them and preheat the grate. Wait until they've reached medium-high heat, or when you can hold your palm about 3 inches above the grill grate for 3 to 5 seconds. If using a gas grill, preheat on high, covered, for about 15 minutes, then adjust the burners as needed throughout cooking.
Brush the pears, red onion, and halloumi with a light coating of olive oil, and season the pears and onions with salt and pepper. Arrange them on the grill and cook, turning occasionally, until all are tender and nicely charred on both sides, 5 to 7 minutes for the pears and halloumi, and 8 to 10 minutes for the onions. Remove the toppings from the grill as they are done and collect them on a large rimmed baking sheet.
Brush the grill grates clean. Grill the flatbreads, two or three at a time, until puffy and charred in spots, 1 to 2 minutes per side.
To assemble the flatbreads, top each with a generous smear of the yogurt spread, dividing it evenly. Pull apart the onion rings and tear the halloumi and divide them amongst the flatbreads. Scatter the lamb over the top, followed by the pears and pine nuts. Finish with the mint leaves. Cut the flatbreads into triangle-shaped slices and serve warm or at room temperature.
NUTRITION
Serving Size: 1 Flatbread (337g)
Calories: 590
Carbohydrate: 54g
Dietary Fiber: 7g
Protein: 31g