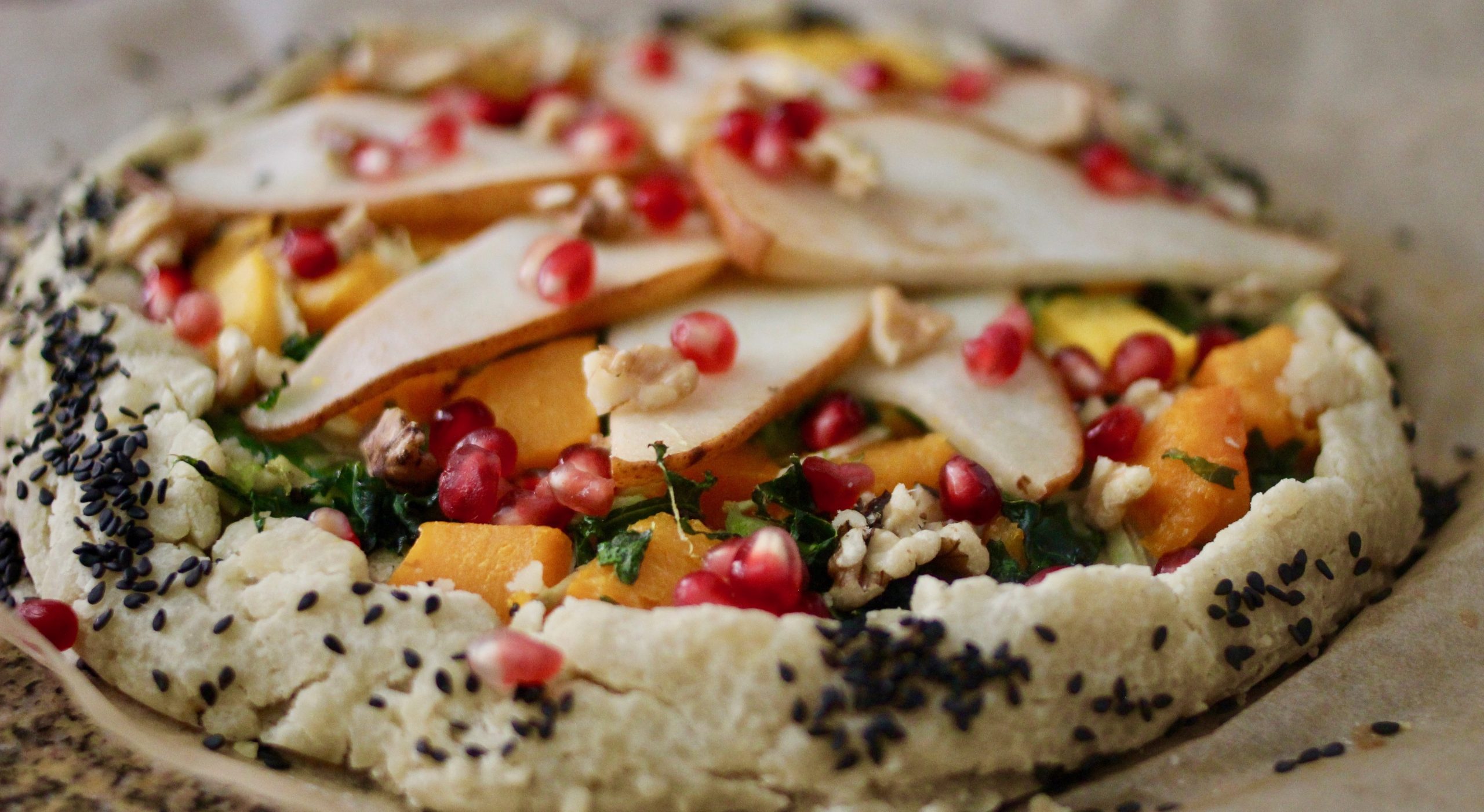 Autumn Harvest Pear Galette
This lovely and unique appetizer is somewhat like a traditional galette, but plant-based, gluten-free and full of wonderfully contrasting flavors like butternut squash and pomegranate. Recipe and photography by Plant-Based Maiah.
INGREDIENTS
Dough:
2 cups gluten-free all purpose flour
1 tsp yeast
1 tsp organic coconut sugar
1/2 tsp sea salt
1/2 cup warm water
1/4 cup coconut oiI (melted)
Topping:
1 cup roasted squash
1/2 cup caramelized onions
1 cup shredded roughage (any mix or selection of cabbage, Brussels sprouts and kale)
1 TBSP olive oil or coconut oil
1 Bosc or Bartlett pear
1/3 cup fresh pomegranate seeds
1/4 cup walnuts
Vegan "Egg" Wash:
2 TBSP almond milk
1 TBSP maple syrup
optional: roasted sesame seeds (black or white)
DIRECTIONS
Note: for the squash, roast small cubes tossed in olive oil for 20-30 min or tender at 400F. For the onions, heat oil in a skillet over low heat, add onions and saute. Add a tiny bit of sea salt, and cook until caramelized, stirring often, then add freshly ground black pepper to taste.
Stir the dry ingredients, then add the warm water and oil. Knead for several minutes (if dough is too dry-depending on gluten-free flour used, you may need an additional bit of water), then roll out into a large circle on a silicone mat (this 2-pack is my favorite) or parchment paper. Move the mat or paper to a baking tray.
Cook the squash and caramelize the onions. Brush the dough with the TBSP of olive oil, then sprinkle caramelized onion. Toss the veggies mix with the butternut squash and sprinkle on top.
Slice the pear and place on top.
Fold the dough edges up and brush with the almond milk mixture, then sprinkle on sesame seeds.
Bake for 25 min, then sprinkle the walnuts on top, and bake another 10 minutes or so.
Cool slightly, then sprinkle fresh pomegranate seeds on top.
Slice and serve!
NUTRITION