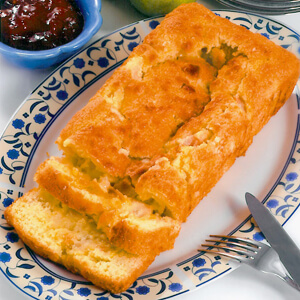 Gingered Green Anjou Bread Loaf
Ginger brings a zing to this pear bread. Keep a loaf on the counter for breakfast and give the other to a friend or colleague!
INGREDIENTS
4 green Anjou USA Pears, cored, peeled, and chopped
1 ¼ cups sugar
½ cup vegetable oil
1 tablespoon fresh ginger root, finely chopped
3 eggs
3 ½ teaspoons baking powder
2 ½ cups flour
1 teaspoon salt
DIRECTIONS
Preheat oven to 350 degrees. Grease the bottom of two small loaf pans. Set aside.
In a large bowl, mix pears with sugar, oil, ginger, and eggs. Stir in baking powder, flour, and salt until well blended. Pour batter in prepared pans. Bake for 45 minutes or until toothpick inserted into the center comes out clean. Let bread cool for 10 minutes before removing from pans.
yield: Makes two loaves
NUTRITION
Serving Size: 2 Slices (115g)
Calories: 310
Carbohydrate: 50g
Dietary Fiber: 3g
Protein: 5g