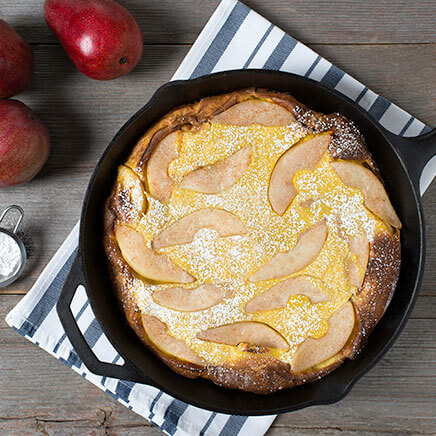 German Pancake with Caramelized Pears
This large pancake puffs up in the oven but quickly deflates. Anjou pears hold their shape beautifully and add plenty of flavor to this breakfast entrée.
INGREDIENTS
4 eggs
1 cup whole milk
1 cup all-purpose flour
½ teaspoon vanilla extract
½ teaspoon salt
3 Anjou (Red or Green) USA Pears, peeled, cored, and sliced, about 3 cups
½ teaspoon cinnamon
2 tablespoons unsalted butter
¼ cup sugar
Powdered sugar
DIRECTIONS
Preheat oven to 450 degrees.
In a large mixing bowl, whisk the eggs then add the milk, flour, vanilla, and salt. Continue whisking until batter is smooth.
Melt the butter in a cast iron or ovenproof 10-inch skillet. Add the pears and cinnamon and cook, stirring gently, until the pears begin to soften, about 5 minutes. Add the sugar and cook over medium heat, stirring, for 3 minutes. Pears will still be somewhat firm.
Pour the batter evenly over the top of the pears. Transfer the skillet to the oven and bake until the edge of the pancake begins to turn brown and puffs, about 15 minutes.
Remove the skillet from the oven and sift powdered sugar on top using a sifter or fine mesh strainer. Slice into quarters and serve immediately.
Recipe developed by Amy Sherman.
NUTRITION
Serving Size: 6.5 oz
Calories: 430
Carbohydrate: 66g
Dietary Fiber: 6g
Protein: 12g
---
2 Comments » for German Pancake with Caramelized Pears