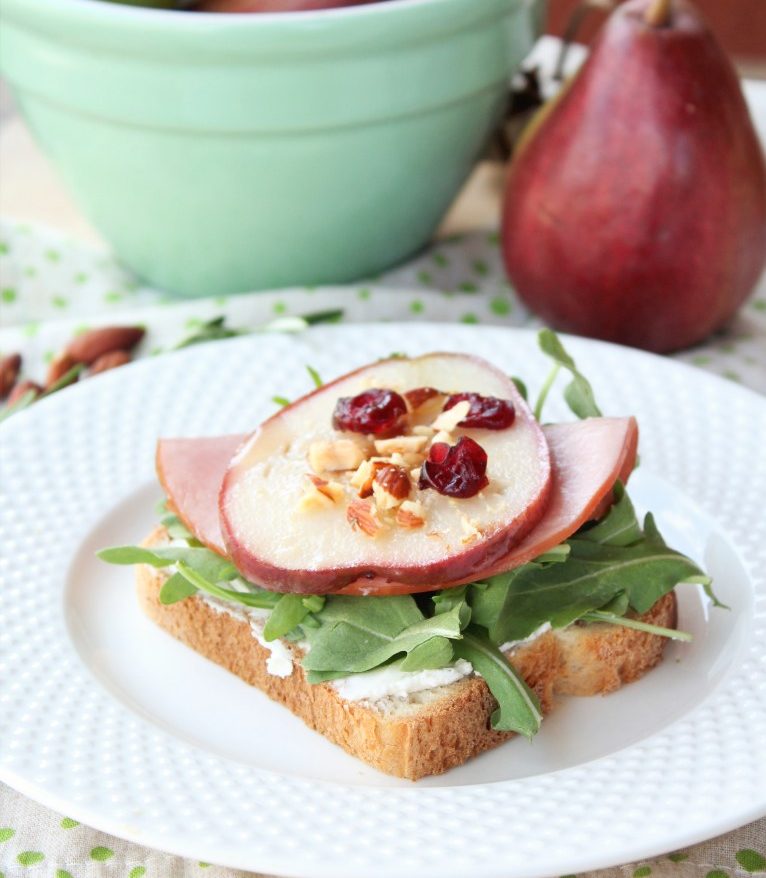 Pear, Smoked Ham, and Arugula Open-Faced Sandwich
This sandwich features sweet, peppery, tangy, salty, and smoky flavors. Recipe and photography by The Gluten-Free Gathering.
INGREDIENTS
Pan Roasted Pears
1 fresh pear (I used Red D'anjou) Opt for a ripe but somewhat firm pear
1 tablespoon salted butter
2 teaspoons light brown sugar
Cream Cheese Spread
3 ounces cream cheese (block variety – not whipped) keep at room temperature for 15 minutes prior to use
2 teaspoons finely chopped fresh rosemary
1 tablespoon pan drippings from the pan roasted pears
Sandwich
4 slices gluten free sandwich bread
4 slices smoked or Black Forest Virginia Ham (Be sure to read the label to check for gluten – all brands are different)
1 cup packed, baby arugula leaves
1 tablespoon dried, sweetened cranberries
10 roasted, salted almonds, crushed
DIRECTIONS
Wash one pear of your choosing. Bartlett and D'Anjou pears work best. The pear should be ripe but still firm. Soft pears will not be ideal for this recipe.
Melt the butter in a saucepan over low heat. Once melted, stir in the light brown sugar until mixed.
Stand the pear upright and cut 4 center slices (lengthwise), each about 1/4″ in thickness). Gently pry away and discard any seeds.
Place the 4 pear slices into the pan with the butter and sugar. Saute over low-medium heat for 2-3 minutes per side. Adjust heat as needed to prevent burning. Pears will be fork tender when done, still holding their shape, and not mushy or falling apart. Remove the pan from the heat and set aside.
Place the cream cheese and the chopped rosemary into a small bowl. Take 1 tablespoon of the butter and sugar liquid from the saute pan. Add it to the cream cheese. Using a fork, mash and stir together until smooth.
Lightly toast the 4 slices of gluten free bread. Place onto a flat work surface.
Spread the cream cheese mixture evenly over the 4 slices of toast.
Evenly distribute the arugula leaves over each slice.
Take 4 slices of ham and fold them in half. Slices of ham vary greatly in size. Adjust as needed. Place a folded piece of ham over the arugula.
Using a spatula, transfer one pan roasted pear to the top of each sandwich.
Place the almonds onto a hard surface. Place the blade of a heavy knife over the almonds. With the palm of your hand, press down on the flat side of the blade (away from the edge). Apply enough pressure to crush the almonds. You may opt to crush 2-3 almonds at a time. Be sure to use roasted, salted almond (they will crush with greater ease).
Sprinkle the crush almonds evenly over the pears. Add 3-4 dried cranberries on top and serve.
NUTRITION
Serving Size: 1 Sandwich (117g)
Calories: 250
Fat: 15g
Carbohydrate: 25g
Dietary Fiber: 3g
Protein: 6g