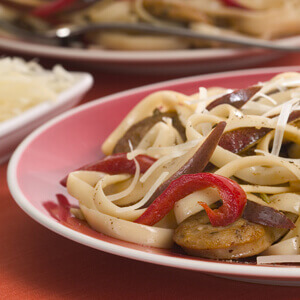 Fettuccine with Spicy Chicken Sausage and Pears
This recipe puts a spin on a traditional Italian dish with chicken sausage and crunchy sticks of fresh pear. Buon appetito!
INGREDIENTS
12 ounces fettuccine pasta
1 pound spicy chicken sausage links, cut into ½-inch thick slices
1 tablespoon olive oil
1 ½ cups white wine
1 ½ cups red bell pepper, thinly sliced
1 Red Anjou USA Pear, cored and cut into matchstick slices
½ cup grated fresh Parmesan cheese
DIRECTIONS
Prepare fettuccine according to package instructions. Meanwhile, in large sauté pan over medium heat, sauté sausage in olive oil until thoroughly cooked and browned. Remove sausage from pan and set aside.
Add peppers to pan and sauté until slightly tender. Add pears to pan and sauté until heated through but still crisp. Remove peppers and pears and set aside.
Add wine to the pan and bring to a boil, scraping the browned bits from the bottom of the pan. Continue to boil until reduced by half. Add sausage, peppers, and pears to the wine sauce and toss to coat.
In a large serving bowl, toss the freshly prepared pasta with the sausage mixture. Sprinkle with Parmesan cheese and serve.
preparation time: 30 minutes
yield: Serves 6
NUTRITION
Serving Size: 9 oz
Calories: 460
Carbohydrate: 50g
Dietary Fiber: 4g
Protein: 24g