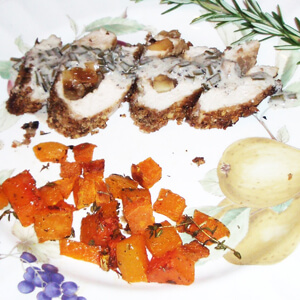 Divine Willamette Wine Country Pear Stuffed Chicken
When Margee B. of Trout Lake, Washington entered The Perfect Pear recipe contest on
epicurious.com
, she was clearly thinking "what grows together, goes together!" Margee won second place in this nationwide contest with her delicious recipe calling for Pacific Northwest-grown USA Pears as well as other ingredients from this abundant region, including hazelnuts and mushrooms. Try this at home, and you'll see why it aptly has the word "Divine" in its name!
INGREDIENTS
2 ounces rough chopped prosciutto
1 tablespoon unsalted butter
1 cup 1/4-inch cubed peeled and cored USA grown Red Anjou pear
1/2 cup chopped mixed wild mushrooms, such as cremini, shiitake and porcini
1/2 cup chopped onion
2 teaspoons minced garlic
1/2 cup hazelnuts, skins removed
2 tablespoon all purpose flour
1 teaspoon Herbes de Provence
1 teaspoon sea salt
1/2 teaspoon black pepper
1 cup panko
1 large egg
4 boneless skinless chicken breasts, about 6 ounces each
1/4 cup extra virgin olive oil
1/2 cup dry white wine
2 tablespoons pear brandy, preferably produced in Oregon
1/4 cup chopped fresh chives
2 ounces smooth mild goat cheese
DIRECTIONS
In a large non-stick skillet, cook prosciutto over medium heat stirring often until golden and crisp – about 3 minutes. Transfer to a medium bowl. In the same skillet, melt butter over medium heat then add pears, mushrooms and onions, and sauté 5 minutes. Add garlic, sauté 1 minute more; add to the bowl of prosciutto, stir and set aside.
Whirl hazelnuts, flour, Herbs de Provence, salt and pepper until fine crumbs form; stir in panko then spread onto a large plate. Beat egg in a shallow bowl.
Pat chicken dry, cut a deep pocket through the thickest part of each chicken breast making sure not to cut all the way through. Fill each with pear mixture, dip each side into egg then dredge both sides into panko mixture.
Heat oil in same large non-stick skillet over medium high heat. Lower heat then sauté chicken on each side until golden and cooked through, about 10 minutes per side. Place chicken on platter and cover with foil to keep warm.
Wipe skillet clean and add wine, brandy and chives, heating over medium high until mixture comes to a boil, let reduce slightly for 3 minutes. Remove from heat, whisk in goat cheese until melted.
To serve, place 1 chicken breast onto each of 4 plates, drizzle goat cheese sauce over.
NUTRITION
Serving Size: 11 oz
Calories: 830
Carbohydrate: 49g
Dietary Fiber: 6g
Protein: 39g