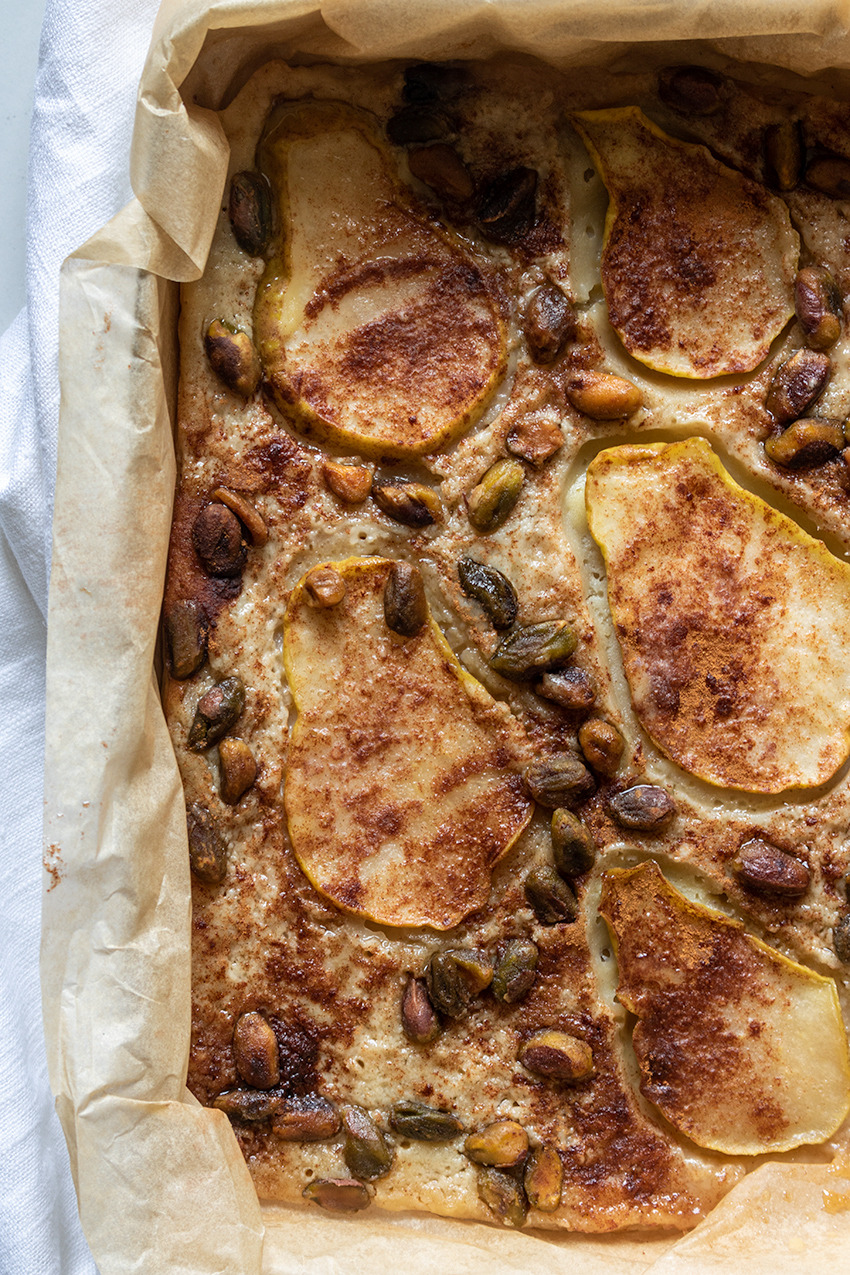 Crustless Pear and Pistachio Tart
This crustless tart is baked with a bread pudding-like filling and topped with a pear and pistachio crumble. Decadent and surprisingly simple to make! Recipe and photography by A Love A Fare.
INGREDIENTS
Crustless Tart
1 ½ cups all-purpose flour
¼ teaspoon baking powder
1/8 teaspoon salt
1 tablespoon canola or vegetable oil
¼ cup honey
1 cup oat milk ( or milk of your choice)
1 cup pear sauce (peel very ripe pears and place flesh in a blender and blend well until liquid consistency is achieved)
1 teaspoon almond extract
1 cup sliced pears, Anjou or Bosc
Pistachio Crumble
¼ cup brown sugar
¼ cup slivered pecans
¼ teaspoon ground cinnamon
2 tablespoons vegan butter, melted
DIRECTIONS
Preheat oven to 350 degrees Fahrenheit and cover baking pan with parchment paper. Set aside.
To a large bowl, stir together the flour, baking powder, and salt. Set aside.
To a separate bowl mix together oil, honey, milk, pear sauce, and almond extract.
Add wet ingredients to dry and mix gently. Pour mixture into the prepared baking pan. Add sliced pears to top of tart along with brown sugar, pistachios, ground cinnamon and melted vegan butter.
Place in the preheated oven and bake for 30-40 minutes checking doneness at 30 minutes by piercing with a toothpick. If the toothpick comes out clean it's ready. If it doesn't cook 5-10 minutes checking every 5-7 minutes until done. Let cool before removing from pan.
NUTRITION
Serving Size: 1 Piece (96g)
Calories: 210
Fat: 6g
Carbohydrate: 34g
Dietary Fiber: 3g
Protein: 3g
---
2 Comments » for Crustless Pear and Pistachio Tart