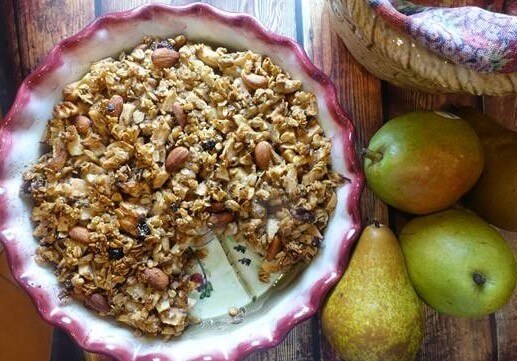 Although you can make cobblers all year round using fruit of the season like mangos, cherries and apples, the fall is when the aroma of fruit baking in the oven warms the chilly temperatures and the hearts of family and friends. This pear cobbler is particularly delish since it has no added sugar…yet it's loaded with flavor, letting the natural sweetness of this fruit shine through. It's pear-fect!
INGREDIENTS
Cobbler  
4 cups (around 3 large) fresh pears cut into small pieces
2 teaspoons lemon juice
3 tablespoons whole wheat pastry flour
1 tablespoon chia seeds
1/2 teaspoon cinnamon
1/4 teaspoon salt
1/4 teaspoon pumpkin spice (optional)
1/2 cup mixed unsalted nuts
Cooking spray
Topping  
1/4 cup granola
3 tablespoons butter, melted (or 3 tablespoons avocado oil)
DIRECTIONS
1. Preheat oven to 350 degrees Fahrenheit.
2. Spray a shallow pie dish with cooking spray and set aside.
3. In a large bowl, combine pears with lemon juice, flour, chia seeds, cinnamon, salt (and pumpkin spice, if desired). Stir in nuts.
4. Place pear mixture evenly into pie dish.
5. In a small bowl mix the granola with melted butter.
6. Top the pear mixture evenly with granola mixture. 
7. Bake at 350 degrees Fahrenheit for around 45 minutes or until topping is golden brown.
Serving suggestion – serve cobbler when warm in individual dessert bowls and top with a scoop of frozen yogurt or vanilla ice cream, if desired.
NUTRITION
Serving Size: 1 Slice (72g)
Calories: 180
Carbohydrate: 17g
Dietary Fiber: 4g
Protein: 4g
---
1 Comment » for Crunchy Pear Cobbler