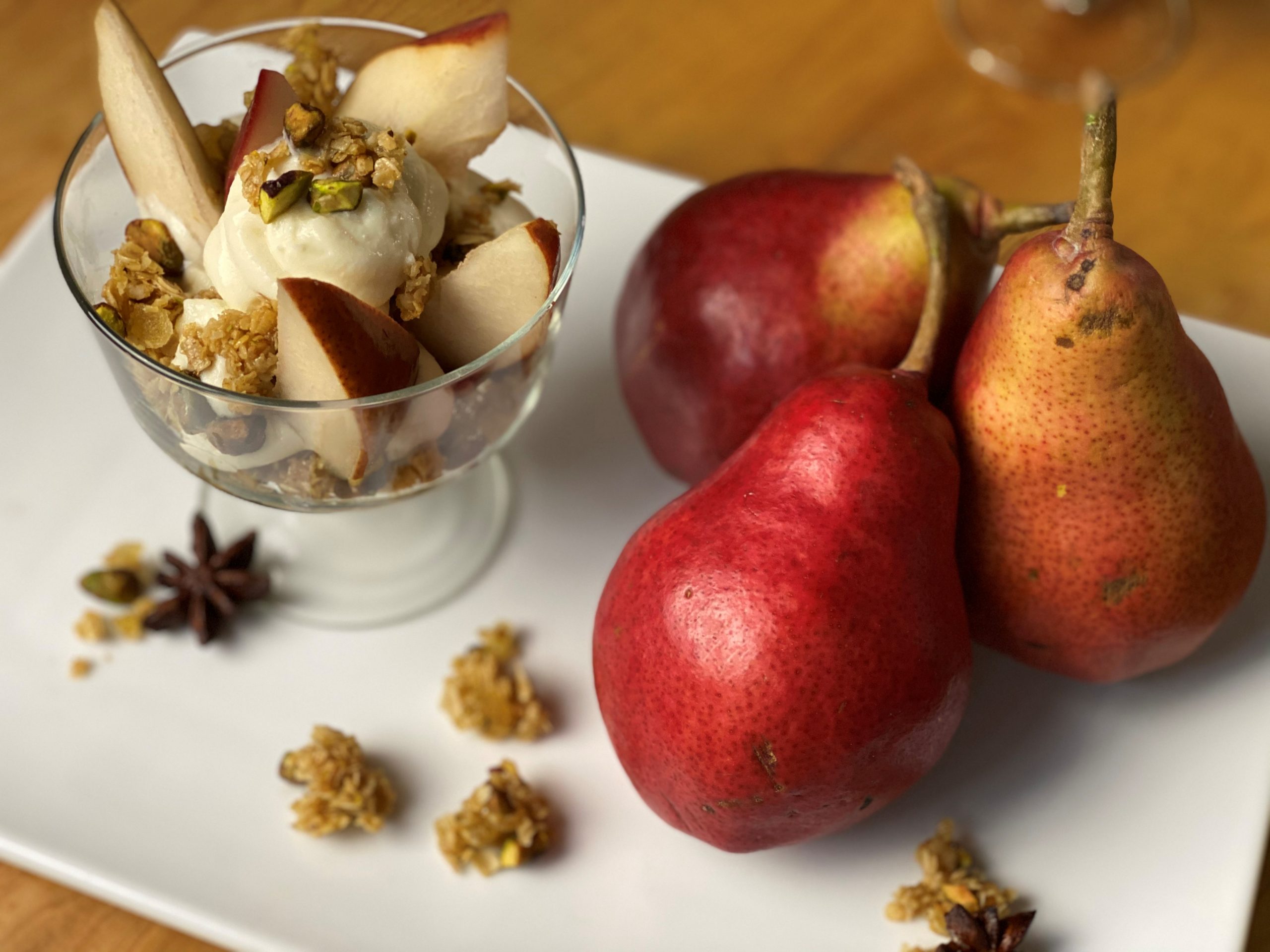 Pickled Anise Pear and Honey Ricotta with Ginger Pistachio Granola
This dessert is very unique as it is a blend of sweet, tart, creamy, savory and crunchy all in one. Recipe and photography by The Prize of Cooking.
INGREDIENTS
Ginger Pistachio Granola:
2 cups quick cooking oats
¼ cup oil
½ tsp kosher salt
¼ cup honey
1 cup salted pistachios, shelled and chopped
2.7 oz. jar (1/2 cup) crystalized ginger, minced
Honey Ricotta:
2 cups whole fat ricotta cheese
3 tbs. honey
Pickled Pears:
2 cup water
1 cup aged red wine vinegar
7 large whole star anise pods
1 cup sugar
3 USA Red Anjou or Starkrimson pears
DIRECTIONS
Heat oven to 325 degrees.
In a large bowl, begin to prepare the granola by mixing together the oats, honey, oil and salt. Spread onto a baking sheet lined with parchment paper. Bake for 10 minutes, remove from the oven, and toss in the pistachios and minced candied ginger. Return to the oven and bake another 10 minutes. When finished baking remove from the oven and allow to cool.
While the granola is baking, mix the ricotta and 3 tbs. honey. Refrigerate until ready to assemble.
Prepare the pickled pears at least 30 minutes before serving. In a large saucepan over medium heat, blend the water, red wine vinegar, star anise and sugar. Heat only until the sugar has dissolved. Remove from the heat and set aside to allow to cool slightly.
Slice each pear in half, remove the core and slice each half into 4 slices giving you 24 slices. Place the sliced pears into the brine and allow the pears to marinate for 30 minutes. Gentle stir the pears as needed so all surfaces are in the brine.
When you are ready to assemble the dessert, drain the pears. Place on pear slice in the bottom of a dessert cup. Top with some of the granola then a small scoop of the honey ricotta. Arrange 5 more slices of pear into the cup and add in more honey ricotta and more granola.
NUTRITION